Top 10 Rakhis for Brother in 2019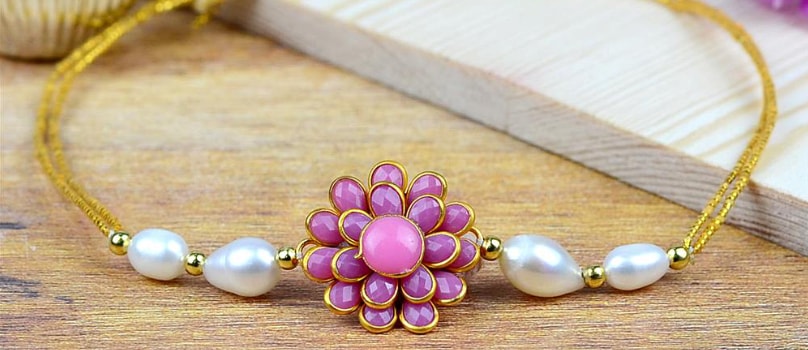 You must be busy preparing for Rakhi, the festival that celebrates the eternal bond of love between the brothers and the sisters. For those who are planning to send Rakhi to India, it is advised to check GiftstoIndia24x7.com, the online gifting portal that deals exclusively in Rakhi to India and Rakhi gifts. The amazing collection of Rakhis and Lumbas will definitely make you spoilt for choices.
To make sure that the customers do not face much problem while selecting their Rakhis, we have brought a list of the 10 best rakhis for your brother. You can select your pick based on this list and send online Rakhi to India along with other rakhi gifts to delight your loved ones in India. Our list of best rakhis includes :
Princely Rakhi

This rakhi thread is decorated with several white beads and other blue color decoratives, along with large shining beads. The color combination of teal blue and orange lends a regal touch to this rakhi.

Beautiful Stone Rakhi

This marvellous Rakhi thread has a bright faux stone in its center. The red colored satin base and other golden colored decorations on the Rakhi thread will definitely be adored by your brothers. There are also red and white colored stones surrounding the center piece which further enhance the beauty of this gorgeous Rakhi threads.

Floral Sudarshan Chakra Rakhi

The Floral Sudarshan Chakra Rakhi is really unique in appearance because it looks like a flower with petals and also like Vishnu's Sudarshan Chakra. In the center there is a circle studded with white stones. There are two small Rudraksh beside it and it is further beautified with sequins, balls and beads.

Green & Red Beads Rakhi

This Rakhi has a metallic floral design at the centre. The floral design is embellished with orange, red & green beads and glittering white stones. Both the ends of the Rakhi are decorated with golden sequins and red & green beads.





Alluring Swastika & Beads Rakhi

As per Indian mythology Swastika brings eternal peace, calmness and harmony. This gorgeous swastika rakhi is beautifully adorned with variously shaped and coloured beads along with a glitzy swastika of metal base placed in between.

Awesome Peacock Rakhi

This Awesome Peacock Rakhi has been exclusively designed with moti work, crystal balls of red and green color and of course with a decorated peacock. This peacock rakhi will definitely make your brothers love you more.

Divine Shree Rakhi

Delight your dear brother with this spectacular Divine Shree Rakhi on the auspicious occasion of Raksha Bandhan. The rakhi comes with a metal centerpiece with the embossed 'Shree' and attached with red thread.

Traditional Light Green Rakhi

Make your dear brothers in India smile, by sending them this traditional light green rakhi that comes with light green strings. The centerpiece of the rakhi features a peacock that has been decked up in zari, red, blue and magenta strings and green beads. The peacock's eye and crest are studded with red beads. The plumage of the peacock features paisley motif, which further enhances the beauty of this rakhi.

Rudraksha and Beads Rakhi Thread

This Rakhi thread comes with a metallic floral design at the centre which is again studded with dazzling faux stones. Small golden colored metallic floral designs embellished with white stones heighten its beauty. Apart from this spiritual Rakhi, you can avail various Rakhi Gifts and send them to your dear ones.

Beautiful Stone Studded Rakhi

Help your brothers make a unique style statement by sending them this elegant and stylish golden rakhi, that is studded with faux stones. Red and yellow strings decorated with metallic beads have lend an elegant look to this rakhi.

This list will definitely help you to select the perfect rakhi for sending to your brothers in India. Send Rakhi to India with the help of this online Rakhi portal and delight your loved ones beyond their imagination. Sending Rakhi to India has become a lot more easier due to the online services offered by this gifting portal. Send Online Rakhi to India along with various gifts and enjoy complete peace of mind.