Top Ten Rakhis for 2020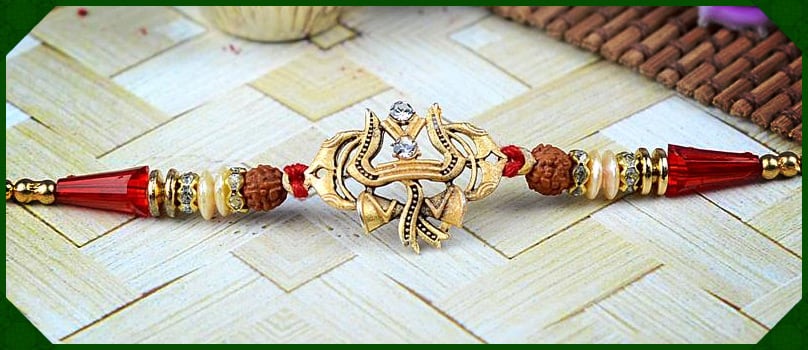 The inexpressible & unconditional bond of love, care and affection is carried out wonderfully by the siblings. Friendships come and go, but the relationship a sibling carries is eternal. Raksha Bandhan celebrates this special enduring vow of endearment. Celebrated on a full moon day in the month of Shravan (August), this Hindu festival is nowadays celebrated widely by people from different faiths as well. 'Raksha' means protection and 'Bandhan' means binding or bound. On this auspicious occasion sisters tie a sacred thread called Rakhi on their lovable brother's wrist as a token of their love and concern, reaffirming their affectionate bond. Sisters pray for their brother's well being and the brothers in return promise to protect their sisters from any evil eye. This festivity is celebrated with huge gusto and grace where gifts play a vital role.
GiftstoIndia24x7.com being one of the leading online gifting portal, celebrates Rakhi eminently with their huge array of gifts and rakhis. Traditional assortment of Rakhi Thalis, Rakhi mithai hampers etc are also segregated in the several categories of the website. If your brother stays away, bridge the distance among your siblings, on this pious occasion of Raksha Bandhan through our huge collection of wondrous Rakhis.
Top Ten Rakhis
Brothers are those lovable caretakers of our life who adorns us the most after our parents. Raksha Bandhan is the perfect time to cherish this endearing relationship. Honour your brothers making them feel special and loved by sending one beautifully designed sacred thread or rakhi. These rakhis mentioned below are the top ten best seller rakhis of GiftstoIndia24x7.com.
Golden Floral Rakhi
Rakhi is only a sacred thread embellished with love and affection. This pretty beads rakhi looks enchanting with its elegant floral centerpiece which is adorned with a shiny white stone. Furthermore, this alluring beaded golden floral rakhi is beautifully embedded with a few glitzy beads of white, red, gold and yellow colour. The dual coloured dhaga gives the rakhi a traditional touch making it an ideal thread to be tied on your brothers wrist.
Golden and Green Rakhi
Designed over a mehendi green satin base, this golden and green zardosi rakhi is made attractively alluring with the neat embellishment of glitzy stones. Surrounded with several shiny white stones, the vibrant green centerpiece of a unique shape looks dazzling which is further adorned with two golden coloured leafy decoratives. The green thread of this gorgeous rakhi is moreover embedded with a glowing green bead along with a tiny golden bead on both the ends making this rakhi look beautiful and impressive as well.
Lovely Zardosi Peacock Rakhi
Designed over a red satin base this gorgeous zardosi rakhi is artistically beautified with a neat zari work. Patterned alike a peacock, this vibrant rakhi is further decorated with several colourful beads and decoratives lending the thread a compact look. The wings of the peacock are decked with red and green thread works with a flawless body of blue thread and golden zari coil work. The leafy shaped red bottom makes this lovely zardosi peacock rakhi look attractive.
Red Flowery Rakhi
This floral designed beautiful rakhi is flawlessly embellished with several artificial white pearls in the shape of droplets. Amplified with numerous colorful balls, stones and sequins, both the sides of this bright rakhi thread is given an elegant but beautiful look. This wondrous red flowery rakhi is designed over a red satin base with numerous shiny decoratives.
Traditional Rudraksha Decorative Rakhi
Rudraksha are holy beads symbolising peace. Rakhis embedded with these sacred rudrakshas creates a wonderful combination to be used on this pious occasion of Rakhi. This traditional rudraksha decorative rakhi comes with 3 Rudrakshas placed one after another at its centre, which is further adorned with several colourful stones and beads. The vibrant red, green and orange colored threads on its both sides are moreover decorated with a few multicolored small sized beads making it look beautiful.
Tri-Color Beaded Rakhi
Designed over a dual coloured spiral dhaga, this simple and sleek tri-color beaded rakhi is embedded with three shiny stones of red, green and yellow colour. The green coloured centerpiece if further adorned with a tiny golden Om placed over it. The three beads are separated from each other with four golden coloured circular beads which enhances the beauty of this neat arrangement. The two white stones placed at both the ends of the rakhi gives the rakhi a complete look which will surely charm your loving brothers.
Pretty Ganesha Rakhi
This pretty ganesha rakhi is presented over a thick red dhaga with a golden coloured metal ganesha figurine embedded in the center. This rakhi is furthermore embellished with several apricot coloured artificial tulsi beads lending it a neat and beautiful look. With four red borders on both the sides of these bead arrangement, this rakhi looks compact. Moreover the coiled golden zari work at the ends enhances its beauty.
Maroon Green Stone Rakhi
This magnificent stone studded Rakhi can also be worn as a bracelet for its smart and elegant look. Beguile your brother by sending this pretty maroon green stone rakhi attached with your love and affection. Designed over a maroon and green satin base this gorgeous rakhi is allured with several glitzy white stones placed in between golden coloured floral crowns. The centerpiece is coiled with golden zari work along with a maroon border in between. Both the end of this dazzling rakhi is moreover prettified with several colourful decoratives and beads.
Vibrant Maroon Rakhi
Worked over a maroon bead, this wonderful rakhi is prettified with a flawless zari work which looks unique and dazzling due to the oval shaped red bead embedded at the end. With golden beads on both the ends of this alluring rakhi, this red thread fixed rakhi looks attractively beautiful. Send this vibrant maroon rakhi to your brother attached with your love and some heartwarming gifts.
Wonderful Rakhi with Artificial Diamonds
Make this Rakhi momentous for your loving brother sending them this wonderful rakhi with artificial diamonds. Designed over a dual coloured dhaga, this enchanting rakhi is adorned with several dazzling white colored artificial stones along with some leafy shaped, copper coloured beads. The centerpiece is made attractive with a glitzy white artificial diamond bordered with several tiny white stones placed over golden crowns lending the rakhi a vibrant and beautiful look.
Raksha Bandhan is a joyous occasion, immaculating love between brothers and sisters. Rakhi is that sacred thread of love and promise which bounds a brother to protect and care his sisters forever. This festival of Rakhi is celebrated with fervor and joy since ancient period. Bhaiya-Bhabhi Rakhis as a set have also created a huge market within the last few years which comprises of a rakhi along with a pretty lumba for our lovely bhabhis. Exchange heartiest gifts to beguile your charming siblings bringing immense joy and happiness for them on this pious occasion of Rakhi.