Top 10 Rakhi from USA to India
The occasion of Raksha Bandhan is the most awaited occasion for every brother and sister in India. Sisters eagerly wait to tie beautiful rakhi threads on their brothers hand and likewise brothers wait to tie rakhi from their sister and give them beautiful gifts. But when you are not present in India and want to send rakhi for your brother from the USA you can use online gifting website as your best options to send rakhi threads for him. And if are confused as which rakhi thread you can send to your brother from GiftstoIndia24x7.com then let us help you.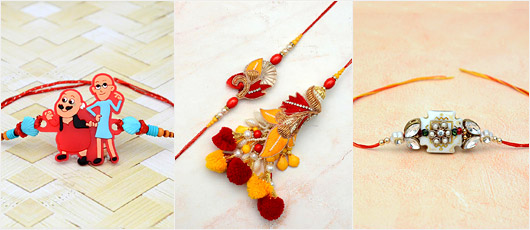 Bracelet Rakhi - For your brother you can send a stylish bracelet rakhi and let him wear a rakhi that will make him look extremely good. We have in store various designs of bracelet rakhi from which you can select the one which will look best on your brother.

Click here to see bracelet rakhi
Exclusive Rakhi - From our online gifting website you can also choose exclusive rakhi for your brother. These exclusive rakhi has various stone designed rakhis which are different from the rest of the raki threads. These rakhi thread are traditional and yet stylishly designed.

Click here to see exclusive rakhi
Divine Rakhi - If your brother is spiritual you can go for the divine rakhi from our collections. The divine rakhi has in store rakhi threads which have spiritual designs and will surely give your rakhi celebration a traditional touch and even being in the USA you will feel closer to your brother.

Click here to see divine rakhi
Bhaiya Bhabhi Rakhi - When your brother is married in many hindu tradition the sister also has to tie a lumba to her sister in law and so we bring to you Bhaiya and Bhabhi rakhi set that consists of rakhi thread for brother and a lumba for your sister in law. It is the perfect combo set for your bhaiya and bhabhi to celebrate the occasion.

Click here to see bhaiya bhabhi rakhi
Lumba Set - If you want to send your sister in law lumba sets separately you can do so as we provide you with a wide collection of amazing lumbas which will surely impress your sister in law. You can choose the lumba which will look good on your sister in law and also match the rakhi thread you are sending your brother.
Kids Rakhi - For the adorable munchkin in India who eagerly wait for their rakhi from their sisters in the USA you can send them kids rakhi from our online portal. These kids rakhi offers you rakhi threads inspired with cartoon characters which will surely be loved by the younger generation.

Click here to see kids rakhi
Personalized Kids Rakhi - To send a creative gift for your beloved kid in India you can send a personalized rakhi to celebrate the occasion with them. All you have to do is provide a picture and we will get that picture on an adorable rakhi thread so the little brother can wear it and show off the sibling love.
$3 Rakhi - If you have to send a lot rakhi thread to India and your budget is limited you can send our rakhi starting from $3 so you can celebrate the occasion even being on a budget constraint. The $3 rakhi threads are equally traditional and stylish which will look amazing on your brother's wrist.

Click here to see $3 rakhi
Rakhi and Lumba Sets - When you have more than one brother and sister in law, you can send them rakhi and lumba sets from our online portal. We provide you with the best matched rakhi and lumba sets which will be loved by them and you can also send them these rakhi threads and lumba together.
Family Sets - When you have a big family in India and you need rakhi threads for everyone you can send them family rakhi sets box, that consists of rakhi threads, lumbas and kids rakhi so all your family members can celebrate the occasion.