Send Sweets and Dryfruits as Diwali Gifts to India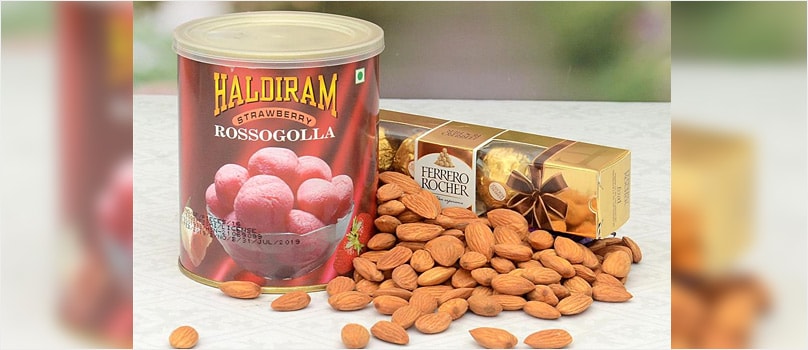 Festivals are celebrated with great fun and enthusiasm by all especially Indians whether they reside in their homeland or are settled abroad due to their professional commitments. Holi, Raksha Bandhan, Dussehra, Lohri are some well known Indian festivals. Amongst these, Diwali is by far the most popular as it is celebrated not only by the people of the Hindu community but also Jains, Buddhists and Sikhs.This festival lasts for five days beginning from Dhanteras and ending with Bhai Dooj. Decorating one's home with colorful rangolis, flowers and lightening up with earthen diyas along with bursting crackers are significant parts of this festivity. This is the reason why Diwali is also known as the 'Festival of Lights'.
However, if due to some reasons, you cannot be with your family and loved ones on this festive season you can always be a part of the celebration by sending gifts to India through GiftstoIndia24x7.com. This is an e-gifting site which is well known for its excellent and efficient customer care services. As Diwali is one of the main festivals of India, this site showcases a splendid range of items which you can send as Diwali gifts. Beautifully decorated earthen diyas, rangolis, wall and door hangings, spiritual items are some popular gifts for you to choose from. But, if you are looking for some traditional gifts then sending them sweets and dryfruits in Diwali will be a wonderful gift idea.

Any Indian festival without sweets is unheard of. Keeping this in mind, GiftstoIndia24x7.com brings you a delicious variety of sweets in the 'Diwali Sweets' section which will definitely be appreciated by your loved ones. You can take your pick from kaju barfi, kaju suraj, mewa peda, kaju pista roll, kesaria peda, motichoor ladoo, mewa tikka, chocolate barfi and many more. Some of the sweets here are also presented in colorful handmade thalis and trays which give the gift a very festive look. Also, one gold plated German Silver coin imprinted with images of Goddess Laxmi and Lord Ganesha is included with these. As all these sweets are from well known brands like Haldiram and K.C. Das, you can rest assured about its quality and taste. For more options, you can browse through the 'Diwali Sweets Hamper' as well.
Apart from these, dry fruits are also well known gifts for Diwali. Since time immemorial, these crunchy treats are gifted to convey happiness and prosperity to ones' loved ones. Hence, keeping this tradition alive, this portal displays a variety of dry fruits presented in handmade trays, thalis, attractive containers and so on. Raisins, cashews, almonds, dates are some variety of dry fruits for you to choose from. Also, three beautifully designed earthen diyas come with each of these which gives the gift a very festive look. Moreover, these will be ideal gifts for your dear ones who are watching their sugar level. But, if you are planning to send a gift hamper then you can check out the 'Diwali dry fruits Hamper' section. Here, the dry fruits are coupled with chocolates and sweets, hence, depending on your loved one's taste, choose any of these.

Since now you know when is Diwali, you just need to know what you want to gift your loved ones. Once you have made your choice, this portal will send gifts to India on your behalf. As this site is known for its ontime delivery, you have no reason to worry.