Sweets as a Gift Idea for Rakhi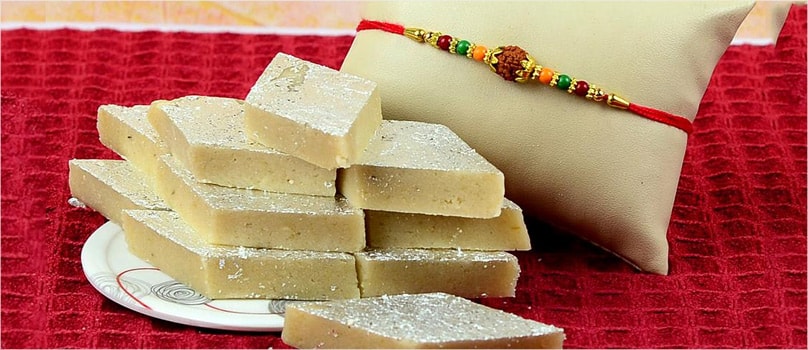 Rakhi is considered as one of the major festivals of India. This festival celebrates the relationship of love and trust between brother and sister. The sisters tie a thread on the wrist of their brothers. This thread is considered as sacred and it is believed that this thread not only strengthens the bond of love between these two but at the same time, it also protects the brothers from any harm. These sacred threads, called Rakhi, also symbolize a brother's promise of being a best friend of his sister who will guard her from all the problems in life.
According to the traditions, Rakshabandhan is celebrated throughout India on the full moon day of Shravana (a month in the Hindu calendar). If we follow the Roman calendar, this festival falls in the month of July or August. The customs that are followed in this festival are unique. According to these customs, sisters tie a Rakhi on their brothers' wrist and apply 'Rori tikka' on their foreheads. The sisters believe that the frail threads are stronger than thousands of metal chains and can make their relationship stronger for the entire lifetime.
Another very important custom related to the festival is of exchanging gifts. Both brothers and sisters start their Rakhi shopping much ahead of the occasion. They shop for different types of Rakhi hampers specially designed for the occasion and several other Rakhi gifts. One of the most favourite Rakhi gifts is sweets.
Sweets are used one of the traditional gifts that are exchanged on almost every occasion. Sweets can make mood for a perfect festive celebration. This is why sweets are an important part of Rakhi celebrations. These sweets are an inseparable part of the Rakhi thali that are used by sisters while tying the sacred threads on their brothers' wrist. At the same time, brothers offer sweets to their sisters as a part of their Rakhi gifts. There are certain occasions when the brothers are residing in far places. Here also, sweets can be exchanged through online portals like GiftstoIndia24x7.com.
Sweets on Rakhi are of different types. Some of these are very traditional and some are prepared according to the changing taste of the new generation. Some of the most favourite sweets that is an inseparable part of almost every Rakhi shopping and Rakhi hampers are described below.
Kaju Sweets: There are different preparations of kaju (cashew nuts) that are quite famous throughout India. Sweets like Kaju Barfi, Kaju Roll, Kaju Pista Barfi, Kaju Gujiya, Kaju Hearts etc. are among the most favourite Kaju sweets that are in high demand in the festive season.
Laddu: It is yet another highly popular sweet in India. It can be used on any occasion ranging from pujas to birthday parties. A kind of auspicious aura is always related to laddu. There are different types of laddus that are available in the market like Motichoor Laddu, Besan Laddu, Moong Luddu, Boondi Laddu and a lot more. These sweets are exchanged in a large amount during Rakhi.
Rasgulla: This is a famous Indian Sweet that is a favourite of every sweet-lover. These spongy balls in syrup are a mouth-watering preparation. Rasgullas are exchanged widely in the festival of Rakhi. Nowadays, packed Rasgullas are available in the market that remains fresh for a long time. It is very easy to send these packed from one place to another.
Apart from these, there are a number of other traditional sweets that can be an excellent gift idea for Rakhi. People who are residing away from their families and want to send Rakhi gifts to India for their family and especially for their loving brothers can depend entirely on GiftstoIndia24x7.com. This website has such a wide variety of sweets and sweet hampers for Rakhi that everyone will find their preferred sweets.