Sweets and chocolates are always everybody's favourite. Rakhi being a special occasion of India, you can greet your dear siblings with delicious sweets and chocolates. On Rakhi, special types of sweets as well as chocolates are available in the market. However, instead of going to the busy markets, you can take the help from the online portals for sending these. GiftstoIndia24x7.com is a reliable e-gifting store, where you can avail diverse types of Rakhi gifts for Rakhri.
According to Indian tradition, it is a custom to give best wishes to the dear ones through gifts such as sweets, chocolates, gift hampers, dry fruits etc. So, if your away from your native land, you can take the help from GiftstoIndia24x7.com in sending sweets and chocolates in this upcoming festival. These mouth-watering sweets and chocolates will definitely make your siblings feel your presence on Rakhi. If you want to know when is rakhi, then it must be known that every year rakhi is celebrated on the full moon day of Shravan which is a month as per the hindu calendar.
In GiftstoIndia24x7.com, the sweets come in various tastes, while some taste sweeter, others taste both salty and sweet. The sweets are made up of good quality ingredients such as boodi, mewa, paneer etc and are available from renowned confectioneries. During Rakhi, people are fond of having sweets such as malpua, coconut barfi, motichoor laddoo, kaju barfi, peda etc. So, send Rakhi to India along with these palatable sweets from our site. In our site, the sweets are available in large number and in different flavors, shapes and colors. In the "Sweet Hamper" section, the sweets come with various other palatable food items such as dry fruits, chocolates, bhujia packets etc. Some of the special sweet hampers available in our site are Mega Sweet Hamper, Delightful Combo etc. These sweet hampers include delicious sweets such as Rossogolla, gulab jamun, son papri etc. Most of the sweets are garnished with cashew and almond and are wrapped in foil paper. The awesome taste of the sweets will definitely please your dear ones on Rakhi. The fresh and healthy sweets come in various arrangements such as paper box, paper thalis or silver box.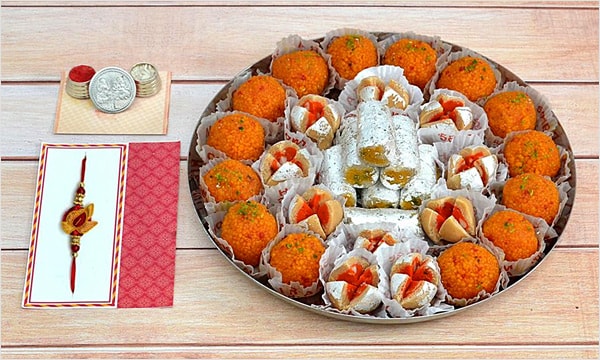 Along with these tasty sweets, you can also delight your dear ones on Rakhi with mouth-watering chocolates. Some of the best chocolates available in this site are Celebration, Ferrero Rocher, Valor chocolates, Lindt chocolates, Twister, Perk, KitKat, Dairy Milk etc. The chocolates are available in various flavors such as sweet chocolate, dark chocolate, milk chocolate etc. Moreover the chocolates have various health benefits. Therefore, sending Rakhi to India along with chocolates as Rakhi gifts will not only delight your loved ones but also make them fit and healthy. The chocolates come in attractive gift boxes or thalis to enhance the spirit of joy and merriment.
If you know how to make Rakhi greeting card, you can couple it with these delicious items. This will definitely overwhelm them with joy and happiness. So, place the order in our site and you will receive the gifts within your chosen day. These tasty sweets and chocolates will definitely strengthen the bond of love on Rakhi.