Surprise Your Dear Ones On Any Occasion Or Festival With Midnight Gifts
People of all ages love to receive gifts on any occasion or festival. Gifts are also a wonderful way to convey your innermost feelings to the recipient when mere words fail. With the introduction of online gifting portals, today, you can send gifts to India or in part of the world, minus the worry and tension. Amongst various such sites, GiftstoIndia24x7.com is worth a mention, not only because of its varied collection of gifts but also due to its efficient customer care support and special services. One service which is grabbing quite the attention of individuals all around the globe is midnight delivery.
As the name implies, by availing this service, you send gifts to India at midnight. You can just imagine your loved ones surprise when they receive your gift when the clock strikes 12. Thus, if you want to try something different this year for your loved one's birthday or any special event then this will be a best idea to opt for. If you browse through our 'Midnight delivery' category, you will come across a wide selection of items which you can send as midnight gifts to India. Flowers, dry fruits, sweets, chocolates are some of the items which you can send to your dear one by availing this service.

Be it birthday, anniversary or any special occasion, flowers are the most popular gift. A beautiful bunch of flowers or even a single stalk brightens anyone's day. This is the reason why GiftstoIndia24x7.com offers you a wide variety of flowers which will be the most suitable gift for your dear ones back home. In the 'midnight flowers' category, you will find beautiful bouquets of carnations, roses, gerberas and orchids. Depending on the recipient preference, you can choose to send anyone. Besides these, you can also opt for flowers in vase, flower baskets, fruits and flowers, and many more. Since all these flowers are arranged very beautifully, your loved one's will be ecstatic to receive these lovely bouquets.

To make your gift more attractive, you can couple it with a box of chocolates, sweets or midnight cakes. Cadbury, Toblerone, Vochelle are some popular chocolates which you will find in the 'chocolate' section of this category. Your loved one's will relish the taste of these delicious treats. If your loved one is more partial to sweets than chocolates then you can check out our 'Sweets' section. Here, you will come across a selection of sweets like Kesar Peda, Haldiram Soan Papri, Kaju barfi, rasgullas and many more. These delicious sweets as midnight gifts will definitely make the celebration more grand.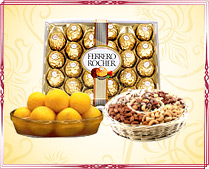 For more gift ideas, you can check out the 'dry fruits' and 'fruits' sections. In the dry fruits section you will find crunchy cashews, pistachio nuts, almonds and figs. Since these nuts are presented in colorful trays and boxes, it will be an appropriate gift for any festival. Apart from these nuts, you can also send them fresh fruits from our site. Fruits are loved by all and have a very positive effect on one's health.
Furthermore, these can be enjoyed by all even if they have some health problems. Keeping this in mind, we at GiftstoIndia24x7.com offers you a varied collection of fruits such as apples, grapes, guava, mangoes, bananas, pineapple, etc. All the fresh fruits are presented in attractive baskets which will add more charm to your gift.

Once you have made your selection of the gift which you want to send by availing the midnight delivery service, please do place your order as per instructions. This means that if your dear one's birthday is on 25th then place your delivery date as 24th. This way your gift will be delivered on 24th midnight, i.e, 24th.

GiftstoIndia24x7.com has been assisting individuals to send gifts to India from US or any part of the world on any occasion or festival. Thus, avail the midnight delivery service of our site and completely surprise your loved ones. They will cherish this moment for several years to come.