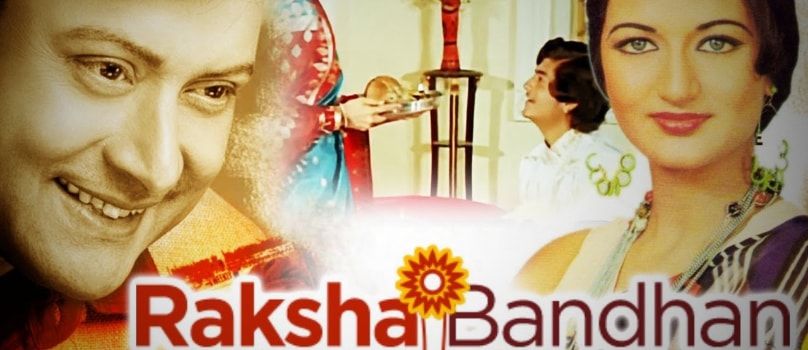 Rakhi is the day to celebrate and cherish the sweet naughty and precious relation which brothers and sisters share among themselves. Bollywood movies have experimented with every kind of relation thinkable and showing the bond between siblings has been very well documented and portrayed. However, Rakhi does not only mean sharing the relation between brothers and sisters. It also means celebrating the love and bond between all siblings, be it brother-brother or sister-sister or brother-sister. So on this Rakhi, let us check out some bollywood movies which has melted their way into our hearts for siblings love! For it's all that matters!
Ram Aur Shyam (1967) :
Twin brothers separated during birth find themselves facing each other due to some misunderstanding. In the end love conquers all. Commendable performance by Dilip Kumar.
Aankhein (1993) :
This film portrayed the bond between two brothers Govinda and Chunky Pandey and their love won the hearts of the audience. They proved that there is no other stronger bond in the world.
Hum Aapke Hain Kaun (1994) :
A Sooraj Barjatya brainchild film, this film showed an ideal relationship between two brothers and two sisters. The younger siblings are all ready to sacrifice their love and happiness for their elder siblings. Complete family entertainment.
Dushman (1998) :
Who could forget the chilling, cutting edge thriller featuring Kajol, Ashutosh Rana and Sanjay Dutt! The love of kajol for her twin sister and her will to avenge her sister's death won the hearts of everyone.
Haseena Maan Jayegi (1999) :
This comic ride starring Govinda and Sanjay Dutt as brothers is one of the most hilarious films of late 90's and the bond shared by them and how they help each other and become the backbone of each other at every possible step.
Kabhi Khushi Kabhi Gham (2001) :
This is an out and out star studded movie with all the big names in it. A family drama movie, the bond shared between Hrithik Roshan and foster brother ShahRukh Khan and Hrithik's struggle to unite his family with his brother left audiences teary eyed.
Makdee (2002) :
Another twin sister story, Shweta Prasad essayed the role of Chunni Munni. Chunni is a brat while Munni is submissive and docile. Amongst all her pranks Chunni is always looking out for her sister and even takes up the witch's impossible challenge to free her sister.
Udaan (2010) :
This film portrayed how 17-year old Rohan, played by Rohan Barmecha, gradually develops an affection for his 6-year old half brother and runs away with his little brother in order to protect him from the clutches of his despotic and abusive father. An ideal big brother goal.
No one killed Jessica (2011) :
The film portrayed the strength of a sister in order to bring justice to her dead elder sister. This film was inspired from the real Jessica Lal murder case and Vidya Balan received many accolades for brilliantly depicting the helpless sister fighting it out alone to bring justice to her dead sister
Gunday (2014) :
A movie which shows great camaraderie between Ranveer Singh and Arjun Kapoor, it is a must watch for two brothers who love each other to the point that they can do anything for each other.
Watch these movies with your siblings and strengthen your bond of love and friendship. But celebrating Rakhi definitely means exchanging gifts. Now you can send online rakhi to India from USA with the help of this reputed online gifting portal. Choose unconventional gifts this rakhi for your brothers and sisters. Gift your sister the Trendy with Serenity fastrack wrist watch and she will definitely love it. Also send your brother the Louis Philippe Striped shirt available in different sizes and perfect for any occasion or office wear. You can also send multiple rakhi sets to India like the Zardosi Rakhi Set of Four which will be perfect for your brothers.
Rakhi means love, rakhi also means sending gifts to your loved brothers and sisters. Now you can send GitstoIndia24x7.com with free shipping with the help of this reliable online gifting portal.