Steps to Select a Perfect Rakhi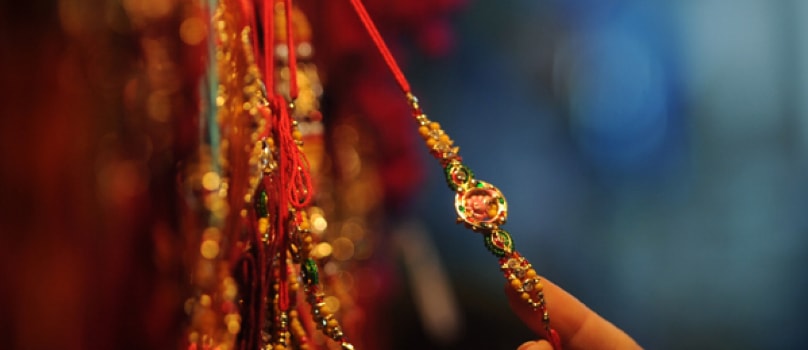 Raksha Bandhan which coincides with the full moon day of the month of Shravan, is a joyous occasion that celebrates the chaste bond of love between brothers and sisters all over India. Widely celebrated with a lot of enthusiasm, the day has become synonymous with exchanging of gifts between siblings.
On this auspicious day, the sisters tie the sacred thread on the wrists of their brothers. This ritual is of immense importance. The thread symbolises the eternal bond of relationship between the brothers and the sisters. The amount of thought that goes into making the rakhi thread is amazing. Manufactured from time immemorial, Rakhis have undergone quite a transformation down the ages. People nowadays have the option of sending rakhis to India by browsing through a vast array of online Rakhis available on online gifting portals like giftstoIndia24x7.com.
According to the individual tastes and preferences, Rakhis have been divided into traditional rakhis and trendy rakhis for the individuals to choose from. Rakhi which is an embodiment of our rich culture, since its inception has always been celebrated in a traditional format with a thread considered sacred, being tied on the wrists of the brothers. With changing times, the tastes and preferences of the brothers too have undergone a sea change. Brothers nowadays are much more fashion conscious. That is why they have a liking for sleek and suave Rakhis which look more like stylish bracelets. For brothers who are conservative and do not give much importance to fashion, gifting a traditional rakhi is okay but for young guns who have an inclination for fashion, you must go for trendy rakhis. While selecting the perfect Rakhi, the sisters must always keep this point in mind.
The size of traditional rakhis has decreased overtime but the conventional designs have been retained. So while browsing online Rakhis, one will come across rakhis with traditional styles of 'dora', 'dhagra', 'mouli', 'kalwa' that have been modified with a tuft of cotton or silk and given a smart, subtle look. Initially, these rakhis used to be created with lots of silver and golden shimmery papers cut in the form of flowers, thus making the rakhis appear gorgeous. Nowadays, these are made to look aesthetically appealing. Improvisations on the fabric have imparted a stunning look with the traditional essence kept intact.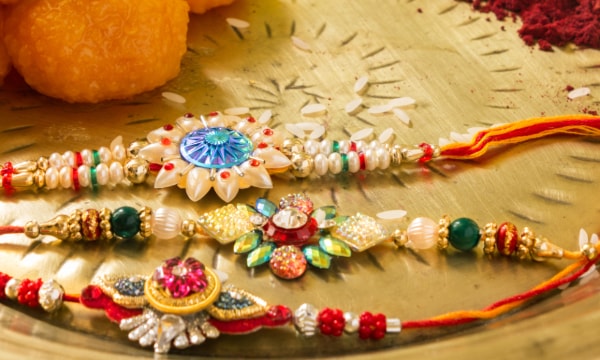 If your brother is particularly fond of conventional things then going for a traditional online Rakhi would be a good idea. This section has rakhis for spiritually inclined people as well. These traditional set of rakhis are exquisitely designed with intricate materials. There are beaded rakhis with beads made of metal, brass, copper, wood, plastic, silver, pearl, gold and has resham and zari borders to them. There are also sandalwood rakhis that exude natural fragrance showcasing an ethnic look. Miniature rudraksh, images of Gods, Om and Swastik symbols are common designs of traditional Rakhis, which also feature satin ribbons, silk and zardozi, decking the rakhis in vibrant colors. So one is spoilt for choices while sending traditional rakhis to India.
The online rakhis offered by online gifting portal like GiftstoIndia24x7.com, have come of age in their variety and design. With the evolution of time, one can notice a host of modern day designs created with skillful twists on rakhis. There are Lumba Rakhis or rakhis for Bhabhis that have incredible artistic designs, rendering a feel of jewellery as it has embellishments at the back of the hand. The stone-studded, bracelet shaped rakhis are sleek, light-weight and quite a rage among the youngsters nowadays. Innovative floral patterns worked with crystals, stones and kundan makeup for trendy rakhis.
Even the rakhis meant for the kids have undergone huge changes from being traditional to trendy. As children are fascinated by cartoons, these rakhis have cartoon characters on them. Even these characters have undergone sea changes from the likes of Mickey Mouse and Donald Duck to Chhota Bheem, Bal Ganesh, Hanuman, Angry Birds or Noddy on them. These rakhis are brightly coloured and contain attractive designs to make them visually appealing for the kids. Send these rakhis to India for your little brothers and make this year's Raksha Bandhan, a memorable affair to remember.