Significance of Dry Fruits Gift Pack on Diwali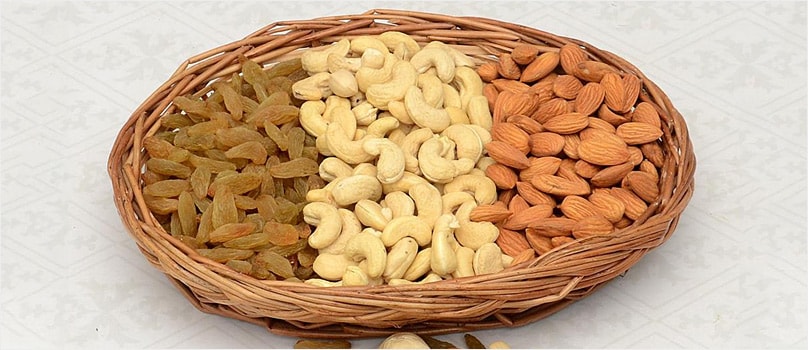 Diwali is the Festival of Lights that is celebrated among the Hindus, Jains and Sikh communities in India with much enthusiasm and fervent. This ancient festival has been widely celebrated in various parts of Indian sub continent since times immemorial. It is also celebrated among the Indian diaspora residing elsewhere across the globe. According to the Gregorian calendar, the Festival of Lights is celebrated sometime between mid-October and mid-November. According to the Hindu mythology, this festival signifies the homecoming of Lord Rama to Ayodhya along with his wife Sita and brother Laxman from Lanka. According to Jain mythology, the festival marks the attaining of Nirvana by the last Tirthankara Mahavira. The Sikhs on the other hand, mark this festival as the day when Guru Hargobind freed himself along with some Hindu kings from the Fort of Gwalior.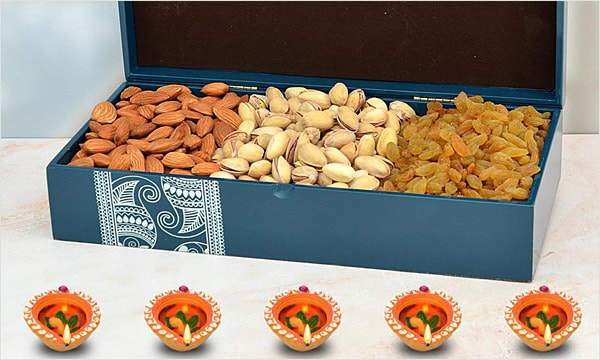 Exchanging of gifts and pleasantries among the family members, relatives and friends is quite common on the occasion of Diwali. Among all the gifts and pleasantries that are exchanged, Dry Fruits remain the most preferred choice for Indians as online Diwali gifts to India. Keeping in mind the tastes and preferences of its customers, GiftstoIndia24x7.com, the premier online gifting portal has brought exclusive Dry Fruits Diwali Gift Packs for them. To make sure that your loved ones usher in the festivities of Diwali, these dry fruits gift packs come either with a Shagun coin or a set of three diyas made of German Silver. Shagun coins and diyas are symbols that are closely associated with the Festival of Lights.

Many a times, questions have arose as to why dry fruits remain the most preferred choice when it comes to online Diwali gifts. There is a significances attached to it. Since Diwali is celebrated sometime between mid-October and mid-November, what follows after is the bitter, cold winter. The chilly, cold winter has the reputation of being drastic in certain parts of India. Those who stay abroad would definitely want their loved ones to remain safe and healthy during the harsh winter. The best way to ensure that their near and dear ones remain fit and fine during the cold season is, to send a box full of dry fruits beforehand during a grand and festive occasion like Diwali.

Dry fruits come with various health benefits. These are packed with various essential nutrients, proteins, vitamins and other minerals. Experts believe that a handful of dry fruits like almonds, cashews, raisins and pistachios are enough to keep heart diseases and strokes at bay. Minerals like phosphorus, calcium, copper, iron, potassium and others aid in the proper functioning of the vital organs of the body. Most Indians opt for deep fried and spicy snacks when they have hunger pangs in between meals. A handful of dry fruits can be great substitutes for spicy snacks to curb the hunger pangs. And last but not the least, certain dry fruits like almonds, raisins and cashew nuts contain Vitamin E, the regular consumption of which results in a glowing skin and healthy hair.
In short, since dry fruits are beneficial in numerous ways to our body, it is only apt that these are send to us by our loved ones, who are always concerned about our well being. Actually, over the years Dry Fruit platters or boxes of dry fruits have become synonymous with warmth, affection, care, and love. That is why, these are more preferred than the other online Diwali gifts to India. These dry fruits come either in attractive handmade trays or in beautiful designer boxes. You can send Dairy Milk, Ferrero Rocher, Temptation, Bournville or other chocolates along with these dry fruits. Apart from the Dry Fruits platter, you can also select other online Diwali gifts for your loved ones in India and make the Festival of Lights a memorable affair to remember.