Send Shagun Gifts for Brother on Rakhi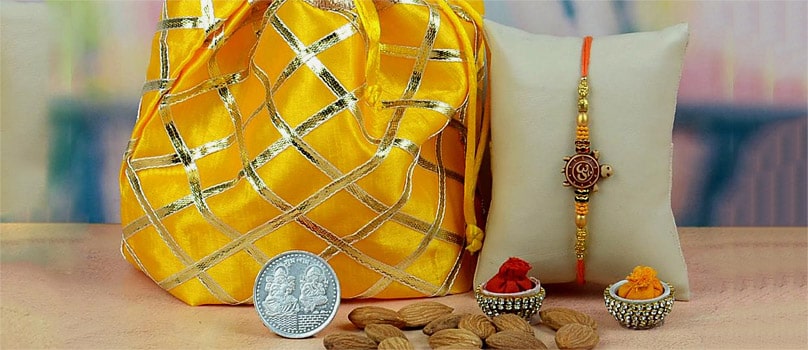 Rakhi or Rakshabandhan is considered to be one of the auspicious occasions widely celebrated in India. This festival commemorates the lovely bond shared between the siblings. Falling on a full moon day of the month of Shravan, Rakhi is also termed as Rakhi Purnima. This Indian festival is celebrated in all over India and symbolizes peace and harmony and is deemed to be the epitome of chaste love.
A popular Indian festival like Rakhi encapsulates customs and values integral to our Indian culture and heritage. As the sister ties the sacred Rakhi thread or 'dhaga' as a mark of trust, love and wishing lifelong prosperity, the brother ensures protection and help in times of trouble. Send Rakhi to India along with other amazing gift items to to delight your loving brother or sister and also to make the celebration grand.
Considered to be a pious occasion, Raksha Bandhan is observed with puja thalis. The plates are usually strewn with flowers, diyas, a bowl of 'chawal' (rice), roli, and sweets, tilak, shagun nariyal (coconut) and Rakhi arranged on it.
In today's fast moving world, you can make your dear brother or sister feel your presence even if you are miles away from them by sending Rakhi to India from USA with the help of numerous online gifting portals. Online gifting stores have come up with different shagun gifts or puja thalis which you can send to cherish your dear brother on this day of Rakshabandhan. In fact, you can impart the homely feel to the brother staying outside India via the Rakhi thalis.
Sending beautiful shagun coins along with the Rakhis is a superb idea to bring smile on the face of your adorable brother. Say 1 gm gold coins with divine images like Lakshmi, Ganesha, or Lakshmi Narayan engraved on them are widely available online for you to send along with Rakhi to India from USA. Shagun which means good luck is integral to Rakhi. People send in 8 gm, 4 gm, and 10 gm shagun gold or silver coins in rectangular or round shapes to usher in prosperity, good luck charm and convey their love and respect.
Delight your loving brother or sister on this Rakhi by sending him or her an exclusive hamper. It consists of pearl and silver chains, light jewellery with gold or silver coins, silver dishes, 'aarti' stands, or 'tulsi' stands, incense sticks holder, artificial small green coconut. The all in one hamper includes pen, jewellery, god statues preferably Lakshmi, Ganesha. Send Rakhi to India along with a unique hamper and shagun nariyal to make the celebration grand.
Express your sincere love and gratitude through gifts that are close to your brother's heart. Convey best wishes by showering these shagun gifts even if you are far away from them.