Rakhi is a popular festival usually celebrated in the month of August. This day is celebrated in an unique manner. On Rakhi, all the family members gather to celebrate the loving bond between brothers and sisters. The celebration begins after the sister performs the traditional custom of tying sacred thread, "Rakhi" on her brother's wrist. Both wish each others well being and happiness. Exchanging gifts on Rakhi is a very common trend. So, if you are away from your close ones on Rakhi , you can send Rakhi to India with the help of e-gifting portals.
Giftstoindia24x7.com is an exclusive online store, where you can avail wide collection of Rakhi gifts as well as gift hampers. This e-gifting portal assists the global Indians to send Rakhi to India from any part of the world. Before, you explore our site.
Often it becomes difficult, to select individual gifts for our loved ones since the choice and taste of every person differs. Thus to make your task of gifting easier, we present below different Rakhi gift hampers on our site. You can select the hamper that includes items of the recipient's choice.
Bhaiya Bhabhi Hampers
If your brother is married you can send gifts for your bhaiya bhabi, on Rakhi, by selecting hampers from bhaiya bhabi gift hamper section. Some of the most popular ones are Davidoff Cool Water Set, Stunning Double etc. You can also send gift hampers such as Lucky Rakhi Thali, Chandi Hamper since these hampers include traditional items like Rakhi silver thali, Rakhis and puja items. If your bhaiya bhabi are fashionable and professionals, you can select hampers, Trendy Bhaiya-Bhabhi Rakhi Hamper, For My Bhaiya-Bhabhi etc that include items such as trendy outfits, leather bags, jewellery, cosmetics etc.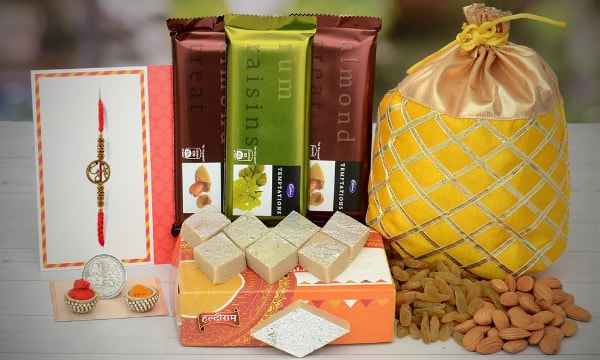 Sweet Hampers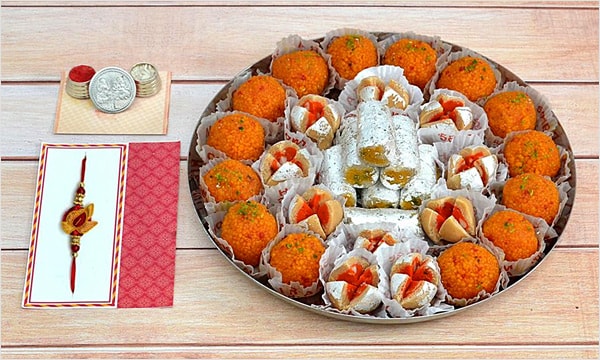 Sweets are the most important part of Rakhi celebration. People share sweets to make the festival more cheerful. Thus, to make the occasion of Rakhi more auspicious, you can send delicious sweet hampers to our family. Some of the mouth-watering sweet hampers available in our site are Halwa Kaju Hamper, Kaju & Papri Wonder, Peda & Hearts etc. Mega sweet hamper is the most preferred one as it contains 1 kg Rossogolla, 1 Kg Gulab Jamun & 1/2 Kg Sohan Papri. You can also send Delightful Combo hamper as Rakhi gifts to India. This hamper contains ½ kg dryfruits and ½ kg kaju gujia. The taste of the sweets will surely make the celebration memorable.
Flower & Cakes
If you want to send something unique, you can send flower & cake hamper to your loved ones on Rakhi. The cakes are from renowned bakeries such as Five Star and Taj. The flowers are beautifully arranged with ferns and fillers, neatly tied with colorful ribbons. The fragrance of the blooming flowers and the delicious taste of the cakes will enthrall your loved ones with joy and pleasure.
Hamper For Brother
You can also avail Hampers for Brother. If you want to surprise your brother, you can gift him some exclusive hampers such as Exclusively Him, Celebrate, Hamper only for you, Gentleman's hamper etc. Most of the hampers include attractive men's item such as perfume, bag, pens, watches, cufflinks, gift vouchers, t-shirts etc. They are mostly Peter England's shirts, Titan's watches, Calvin Klein's perfumes, Parker pen etc. These hampers will surely delight him on Rakhi. Therefore, select the hamper of your brother's choice and make him happy.
Hamper for sister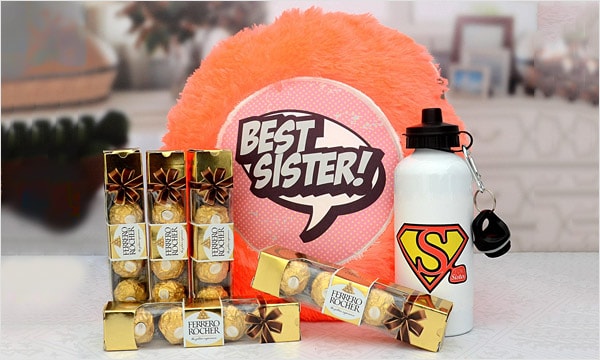 If you wish to send return gifts to your sister then gift hamper would be the best idea. The most popular hampers in the Hampers for sister section are Chocolaty Fragrance, Felicia, Fabulous Hamper, Mega Sweet Hamper etc. If your sister is fond of cosmetics then you can send a beauty kit hamper such as Complete Collection that includes cosmetics from well known brands such as Lakme, Loreal etc. You can make your sister enjoy shopping by selecting hampers that have gift vouchers from Shopper's Stop, Pantaloons etc. Moreover, if your sister likes pizza and ice-cream then you can give her a treat by sending gift vouchers from Baskin Robbins and Dominos. These hampers will surely delight her on Rakhi.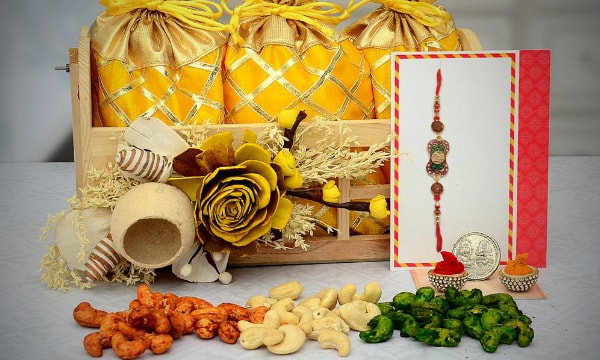 Dry fruit with Rakhi Hamper
Dry fruit with Rakhi hampers will also be a perfect gift hamper for your dear ones on Rakhi. If our dear ones are fond of dry fruits then you can surprise them by giving a dry fruit treat. These dry fruits have colorful and decorative packaging such as Silver Thali, Silver bowl, plastic tray or paper box. Moreover, each hamper contains Rakhi and Roli tikka. The taste and freshness of the dry fruits will surely impress your loved ones on Rakhi.
Chocolate Hamper
The delicious taste of the chocolate makes anyone feel happy and cheerful. So, If you want your dear ones to enjoy the festival to the fullest, then Chocolate Hamper will be the best gift idea on Rakhi. The pleasing taste of the chocolates will surely overwhelm the younger as well as elders of the family.
Gift Hamper
Gift Hamper is the exclusive hamper amongst all. The hampers in this section are unique for the gift articles included in them. Some of the well known ones are Five Star Treat, Exotic Treat, Sweet Celebration etc. If you want to express your warm regards and love, to your siblings in India you can send a hamper that includes exotic flowers, chocolate or sweet boxes and cakes. You can also send basket full of fresh fruits along with flowers and sweets by selecting hampers such as Fortuna, Graces, Fresh and Healthy etc. These hampers will surely bring a big smile on their face.
If you want to send something unique to your brother, then you can make Rakhi and Rakhi Greeting card. You must be thinkinghow to make Rakhiand how to make Rakhi greeting card. To make Rakhi, you can use colorful silk or satin threads and stick colorful stones, beads or holy symbols such as Swastik, Om, Ganesha, Laxmi on it. For Rakhi greeting card, you can use white or any other colorful chart papers, cut it in a rectangle shape and fold it equally. On the front side of the card, decorate it with Rakhi images, glitters, colorful stones and beads etc. These handmade gift articles will surely express your love and care for our dear ones in India.
Sending Rakhi to India as well as gifts from our site, is a very easy task. Our reliable delivery service will surely help, in delivering the gifts on right time and place. Therefore, use our service and make the celebration splendid.