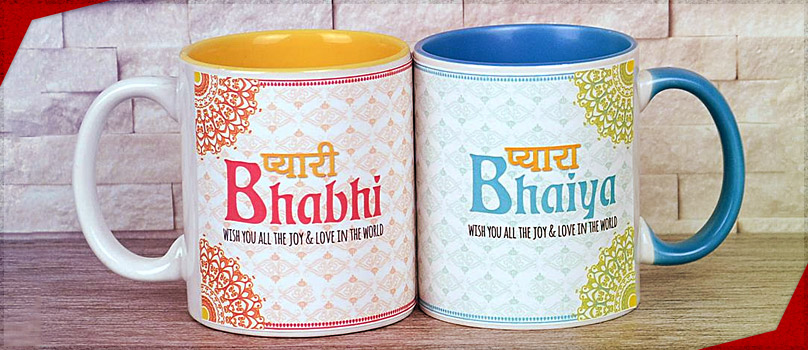 Rakhi happens to be the most sweetest festival that honours the bond between a brother and a sister. There are different festivals that celebrate various relationships between people like Mother's Day, Father's Day, Grandparent's Day etc. Impact of western culture has popularized these occasions in India. Just like in Western countries, these occasions are also celebrated in India. But Rakhi is one festival that is totally an Indian festival. No other festival such as this focusses importantly on the relationship between a brother and a sister. Here according to tradition there exists a ritual of rakhi tying ceremony. Here sister ties a rakhi on her brother's wrist. This rakhi is a mark of safety and prosperity of the brother. It protects him from the evil eyes of Yama, the Hindu God of death. Nowadays sisters can even send rakhi to India from other country if they are settled abroad.
The entire day of rakhi is dedicated to the brothers and sisters where they spend the day with each other, but nowadays they may stay abroad that creates a hindrance to celebrate rakhi together. Thus the concept of Online rakhi has emerged. Several e-gifting sites has come up like GiftstoIndia24x7.com wherefrom sisters will be able to send rakhi to India online without taking any trouble of rakhi shopping for the purpose. This is due to the fact that at this site one can find everything related to this festival. Here you will find different kinds of rakhis for your brother, gifts for him and rakhi return gifts for sister, rakhi thalis, rakhi greetings card and so on. Even this site has categorised relation wise rakhi gifts like rakhi gifts for brother, bhaiya and bhabhi, sister, infant brother and so on. Thus sending rakhis will be a child's play and with it you can even send rakhi gifts.
There are even facilities through which you can send rakhi to India same day. This is applicable in cases where one has forgotten to send rakhi to her brother and need to send it fast on the same day. Now Rakhi is not very far away so start making plans fast. Remember when you send rakhi to India you have to also team it with wonderful gifts. Other than common items as gifts if you decide give something unique, Personalized gifts would be the best. The most important aspect of these are that they provide a personal touch to the gifts. The recipient can see his own picture or they are reminded of some nostalgic moments through the pictures. Here are some innovative gifting options:
Personalized Mugs
These are the most popular Personalized gift item. Here Mugs are taken and the picture uploaded by the sender is imprinted on the glass. There are various types of glasses to choose from like transparent Mug, 2 toned Mug with one color inside and one outside, Mugs with messages like "You and Me". But the striking item out of all these is Magic Mugs. The feature of this Mug is in normal condition it would be blank but as soon as warm liquid is poured into it, the message and image gets apparent and noticed. This Personalized Mugs be really special for your brother on Rakhi.
Personalized Gift Items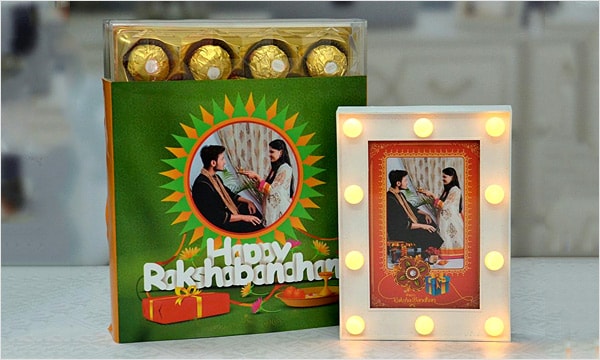 There are various Personalized Rakhi Gift Items that you can gift your brother. There are Personalized Rock Frames, Personalized Love cushions, Piggy Bank and Photo Puzzles. On each of these items there will be a personalized photo that you have uploaded.
Tiles and Mirror
Sending Personalized Tiles and Mirror are an innovative option of gifting your brother. How wonderful it will be when all the walls and even mirrors portray the special pictures of your loved ones? You can find them anywhere you look. For this you just need to upload some of the best pictures with your loved one on our site and select the tile or mirror you want to gift and they will get it, it is as simple as that. Thus you can amaze your bhaiya with a rakhi to India with some lovely tiles and images with it.
Personalized T-shirt
Gift your brother a beautiful photo T-Shirt with his favourite picture printed on it. Personalized T-Shirt gives you the freedom to put any nostalgic and special picture of you and your brother. He can wear it and preserve it as a memoir of your sweet relation with him. Just you need to upload the image and select the size you need for him. He will consider it the best rakhi gift ever. Send rakhi to India with a special gift such as this to enthrall your brother.
Make this rakhi the best for your brother even if he is away from you. The Personalized gifts will be treasured as a priceless memoir in his closet.