Send Gifts to India on Mother's Day and convey your heartiest regards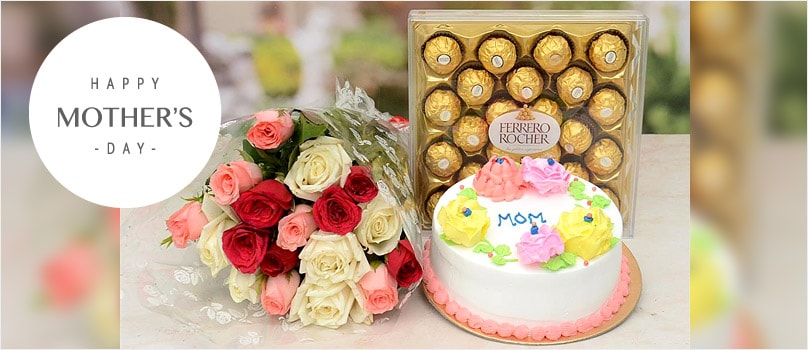 Mother is undoubtedly the God's greatest blessing to the mankind. Rightly said in a Jewish proverb, "God cannot be everywhere so he created mothers". As little kids, our lives revolve around her tender touch and protective gesture. Whenever something went wrong, we used to run to our mothers for support, protection or to sought relief from any pain. It is a mother who always holds her child above all, even above her personal comforts and liking.
No words are enough to thank our mothers. Mothers make our world a better place to live in. Every year on the second Sunday of May, people throughout the world celebrate mother's day. The day is celebrated world-wide to salute a mother's love, sacrifice and compassion. Sending Mother's Day gifts are very special as it let one to show that he or she acknowledge the pain and hardship borne by his or her mother. But due to various career related commitments some of us are compelled to live at far-off places from his or her homeland. But this age of internet has made it pretty easy to send gifts to India on this auspicious day from wherever you are.
On mother's day surprise that special woman in your life by gifting her something memorable. GiftstoIndia24x7.com is an online gifting company which is offering a wide-range of gifts to choose from and let you send gifts to India to your loving mom. So, even if you are staying somewhere miles apart from your mom, you can always send a mother's day gift to India right on that very day, by a single click of the mouse and make her feel special. We are offering some really interesting gifts that you can select and send as mother's day gifts to India. We all know a woman's fascination for jeweleries and if it is a diamond jewelery then it adds to the spark. GiftstoIndia24x7.com allows you to choose from a diversified range of classy, trendy and authentic diamond jeweleries and other gifts to India without much hassles. Women are always known to drool over perfumes. Our exquisite range of perfumes will allow you to select that kind of fragrance which your mom will prefer. A saree could also prove to be a nice option as gift for your mother. Sarees are perhaps one of those things which every women always love to possess. There are elegant as well as designer sarees on offer which enables you to send them as mother's day gift to India. You can also select miniature perfumes and send as Mother's Day giftsto India to mark this auspicious day. If your mother is a strict follower of religious ideas and beliefs or just loves devotional music, impress her with some spiritual gifts that are on offer. Send mother's day gift to India through GiftstoIndia24x7.com as we are committed to take a special care of delivering your gifts right on time.
We offer an impressive array of products which can be sent as gifts to India for your loving mother. Nevertheless, if you are caught in a dilemma regarding the choice of selecting an appropriate gift to India for your mother, a gift hamper could work out to be the perfect gift for her. Or else you can send some flowers or even can send some personalized gifts to surprise your mother. All these gifts to India for your mother will provide some feeling of personal touch and warmth and obviously show that you care.