Sending Flowers to India Online
Life is indeed beautiful. It is beautiful by the people who make it one - our family. Some of life's most cherished moments are spent with one's family. Family is the epicenter of a person's joy and happiness. The best way in which we can make our family even more happier is by gifting them quite often. The gifts convey to your dear ones how much you love, care and cherish them. GiftstoIndia24x7.com is a premium online gifting company that lets people from all around the world send gifts to their loved ones in India. We also specialize in sending flowers to India online. These gifts will be delivered to across 500+ destinations in India. Making your loved ones happy has never been this easier. You can now put a smile across the faces of your loved ones, even being miles apart.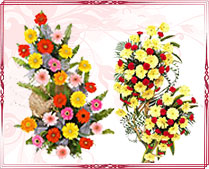 India is the land of festivals. Festivals are an integral part of the Indian culture. Festivals are celebrated throughout the Indian sub-continent. Festivals are the time of family get-together. These are some of the times when family members have a gala time. Fun-filled evenings with every member of the family sitting amidst tea and snacks are some of the most cherished moments during such family get-together. Being with one's family during these festivals becomes a top priority for anyone looking to get-out from the daily humdrum. If you are one of those people who want to impress their loved ones on their special occasions despite being far away, then sending flowers to India online is a good option. We, at GiftstoIndia24x7.com have got a wide range of flowers which you can send to your loved ones in India. The flowers will surely impress your loved ones.

There are some of widest range of flowers such as Roses, Gerberas, Orchids which you can send to your loved ones as gifts to India. Besides these flowers, we have got some of the widest range of flower-arrangements which you can send to your loved ones in India. Making your loved one elated on important occasions is so much easier now. India has undergone tremendous changes. With the advent of the new decade, India has become the focal point of the world's attention. Many foreign companies are making a bee-line for the Indian shores. Many Indians are leaving for foreign shores for various career-related commitments. As a result, there are missing out important family occasion. They are in the look-out for sending various gifts to India to their loved ones. Sending flowers to India from the widest range of exotic arrangements is always a good option. You can also choose from other exclusive bouquets which will surely floor your loved ones.

We have some of the widest range of gifts which you team up with flowers to India. The gifts include perfumes, watches, cakes and many others which you can send to surprise your loved ones in India. We help you to send gifts to India from US along with flowers. When your loved ones receive the flowers you sent them, they will be overjoyed to not only receive your flowers, but your feelings and emotions as well. We aim to achieve a complete customer satisfaction. Our 24x7 customer support keeps you updated about the delivery status of your online .