Sending Flowers to India on Anniversary
Anniversary is the best day in anyone's life. The joy of completing another year of marital bliss is a special feeling. Wishing your loved ones on their special occasion is a blessed affair. There are some of the world's best pleasures in making the lives of those around you, a bit more fun. Anniversaries are such occasions when we get a chance to show our deepest feelings and respect to our loved ones and wish them a life full of prosperity and happiness. GiftstoIndia24x7.com is an online gifting company that helps people from all around the world send flowers to India on anniversary. The flowers will be delivered to across 500+ cities and so making anniversaries special for our loved ones by sending flowerstoIndia is much more a reality now.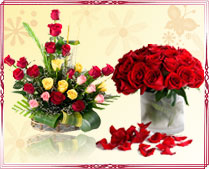 Flowers are synonymous to every celebration. Every occasion brings happiness and flowers are symbolic to happiness. They convey your deepest respect and love that we have for our loved ones. Making our loved ones happy has never been this easy. There are some of the best gift that a man gets in his life. Marriage is one of them. When a person is married, he undergoes a transition so deep that he starts living for someone else. Every-step he takes, he starts to think about the consequences of his action. This is a very important transition indeed. Anniversaries are a kind of stepping-stones in a person's life. Every anniversary makes a person even more responsible and matured. Congratulating on such occasions through various gifts is considered very thoughtful. GiftstoIndia24x7.com aids people from all around the world in sending flower to India as gifts which will truly ring-in the festivities. There are a host of flowers which one can send to one's loved ones in India. There are Exclusive bouquets that will surely win your loved ones' heart. Then there are exotic arrangements of flowers that will blow your loved ones away. We also specialize in life-size arrangements that will make a grand entry into the party.
With the changing times, many people have to leave for the foreign shores owing to career-related demands. As a result, they are missing out important family occasions. Congratulating someone on Marriage anniversary thus becomes a problem from so far away. Anniversaries are a time for rejoicing, a time when we want the couple to know how much happy we are in seeing them complete another year of marital bliss and how we wish they live together, happily ever after. We have a huge range of gifts other than exclusive India Flower that can be sent to one's loved ones in India. From the huge range of flowers like, roses, gerberas, Lillies, Orchids, we have a wide range of gifts that one can team up along with other flowers to India. Perfumes, Jewelleries and many other gifts can be sent to one's lived ones on their anniversary.
Sending flower to India has never been this easier. We have got the widest range of India flower that will surely make your gifting experience worth remembering. Our 24x7 customer support will help you with timely updates about the delivery status of your gifts. This will surely make your transaction hassle-free. Make your loved ones happy on their special day, send flowers to India on anniversary, today. Your loved ones will definitely be surprised and overjoyed upon receiving them.