Send Flowers & Sweets on Rakhi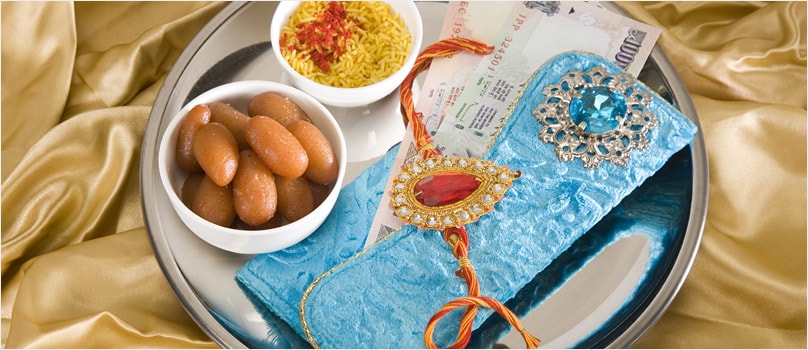 Sending rakhi to India along with gifts has become the latest trend over the last few years. This is because a large section of the young Indians have sailed abroad in different countries. For this reason, it has become difficult for them to participate in the different festivals and occasions back in India. Send GiftstoIndia24x7.com is a leading online rakhi gifting portal, which helps the Indians residing outside the country to send rakhi and rakhi gifts to India.
Rakhi will be celebrated on August. If you want to send attractive and beautifully designed rakhis to India along with rakhi gifts, you can definitely count on us. Gifts have an important role in the festival of rakhi, as gifts are exchanged in plenty between brothers and sisters during the festival. Starting from chocolates, dry fruits, sweets, etc, are exchanged in rakhi. Our website, offers to you a wonderful collection of rakhi gifts which you can send to India.
For almost all the Indian festivals, sweets hold a significant position. Exchanging sweets in any festival has been practised for ages and it has become a part of customs and rituals of India. Rakhi is no exception when it comes to exchanging sweets. Sweets are considered auspicious for the festival and is symbolic of a good start. For the festival of rakhi, our website is offering to you an amazing assortment of sweets which you can send to India on rakhi.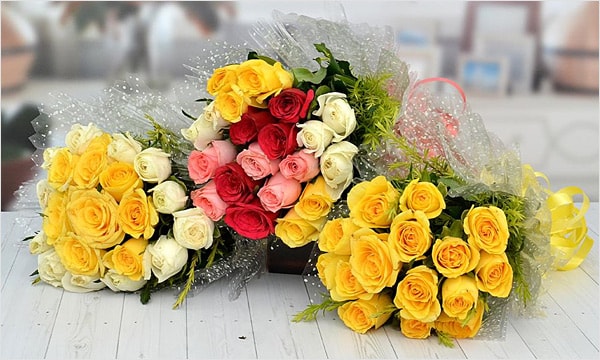 Our collection of sweets is categorised into Mithai Thali and Rakhi Sweets Hampers. Mithai Thalis of our website come filled with enticing sweets. Along with these, you can send rakhi to India to make a memorable celebration of the festival this year. All these sweets or Mithai Thalis are available to you at reasonable prices, thereby, giving you the opportunity to buy anyone you want. Kaju, Mewa, Sohan Papri, Karachi Halwa, Kaju Gujia are some varieties of sweets that are offered in the Mithai Thalis. Some of these thalis also offer chocolates.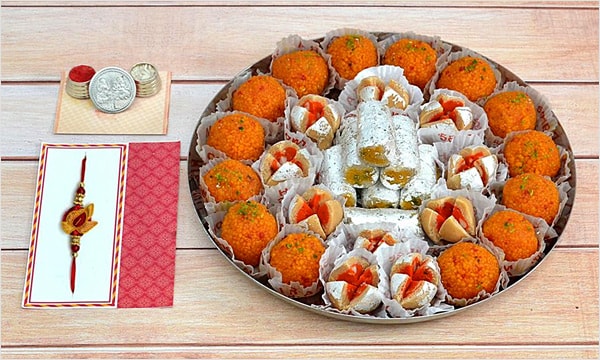 Other than the Mithali Thalis, you can opt for the Sweets Hamper as well for Rakhi. Our collection of sweet hampers offer mouthwatering sweets like Gulab Jamun, Rasgulla, Peda, Halwa Kaju, Mewa and many more. Each of the hampers of this category have combination of at least two variety of sweets. You can go for Mega Sweets Hamper, where you can get both gulab jamun and rasgulla, or you opt for The Special Hamper which comes with Kaju Sweets and Kesadia Peda.If you want to send something different to India on rakhi along with sweets packs, you can go for flowers. We, at Send GiftstoIndia24x7.com, offer fresh flowers for the festival of rakhi. However, the most interesting part is that we offer cakes with the flowers. If you go for the flowers, you will get to send delectable cakes as well. Each of the flower hampers come with different flavors of cake. If you go for the hamper, 'Color Divine', you will get to buy a strawberry cake. On the other hand with the hamper 'Celebration', you can get fresh roses along with a sumptuous chocolate cake. Some of the other flavors of cake that are available include pineapple cake and black forest. Go for the one which will tickle the taste bud of your siblings. If you want to add something else, you can try to make a greeting card for your sibling on rakhi if you know how to make a rakhi greeting card.
Now when you know what enticing sweets and exotic combination of flower hampers you will be sending and also occasion of rakhi, place your order at the earliest to avoid the rush.