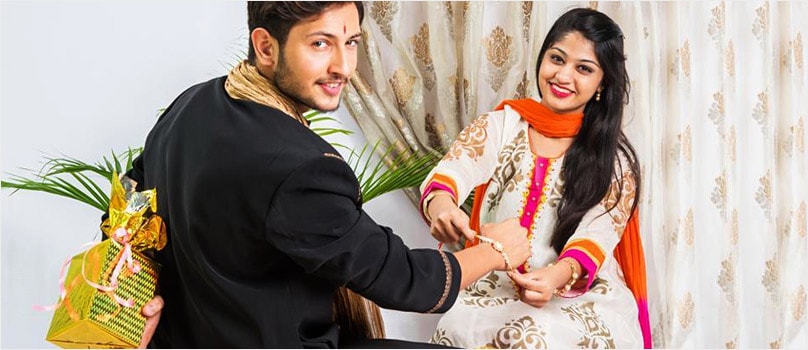 Going for the right gift for any celebration or festival can be pretty tough. Rakhi is an important festival of the Indians where gifts hold an integral part. While sisters tie rakhi on the wrists of their brothers, brothers give gifts in return. If you have a sister, it must be difficult for you to choose the right gift for your sister in every rakhi.
Our website is proud to offer more than 300 varieties of in addition to over 1000 rakhi gifts to India. We deliver rakhi and rakhi related gifts to the remotest places in India with the help of our efficient delivery network.
The array of rakhi return gifts of our website is categorised into Chocolate for Sisters, Gift voucher on Rakhi for sisters, Jewelery for Sisters, Cosmetics for Sisters and Perfume for Sisters and so on. Make a unique celebration of Rakhi for your sister by sending gifts from any of these categories.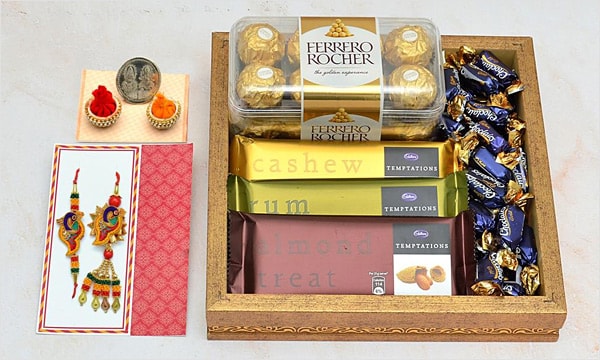 In the category Chocolates for Sisters, you will get a chance to choose from a wide variety of mouthwatering chocolates, all of which come at reasonable prices. If you sister loves soft toys, you can opt for Chocolate with Soft Toys. Some of the other most favored hampers which you can send as rakhi gifts are 'Delightful Chocolate Basket', 'Yummy Chocolate Hamper', 'Celebration Chocolate Thali', 'Sweet Surrender' and many more.
If you are looking for some fancy lady's purses for sending as rakhi return gift in Rakhi, you can browse through the section of 'Purses for Sisters'. You can choose from our excellent collection of ladies purses to make your sister happy. Moreover, you can also opt to send 'Cosmetic as rakhi gifts for Sister'. If you know her favorite brand then choose those ones from our website. This category is filled with brands of international repute like Loreal, Garnier, Ponds, Lakme, Shahnaz Hussain and many more. In addition, we are proud to offer you alluring fragrances like Dior Diorissimo, Ricci Ricci, Arden Pretty, Jennifer Still and many more as rakhi return gifts.
From gold bracelet to diamond pendant, pearl set, gold pendant, diamond earrings and more, all are offered in the category of 'Jewellery for Sisters'. Help your sister adorn herself by sending her any of these exotic pieces from this category. Additionally, you can select from our modern range of kitchenware, gift vouchers, ethnic sarees, sleek watches and designed salwar suits. You can send rakhi to India along with a number of interesting rakhi gifts to your sibling not only this year but also in the coming years.
If you want to add something else along with rakhi return gifts, then you can go for handmade rakhi greeting cards. If you want to know how to make a rakhi greeting card, you will need card paper, paints of different colors, colorful silk threads and Lord Ganesha or symbol of Swastik. To begin with, you will need to past either the Lord Ganesha or the Swastik symbol in the middle of the card. You can then decorate its surrounding accordingly with the paints and silk threads. You can paint inside the card as well. However, make sure to add a special message to your sibling.
Surprise your sister with our impressive collection of rakhi return gifts and also with your handmade rakhi greeting card.