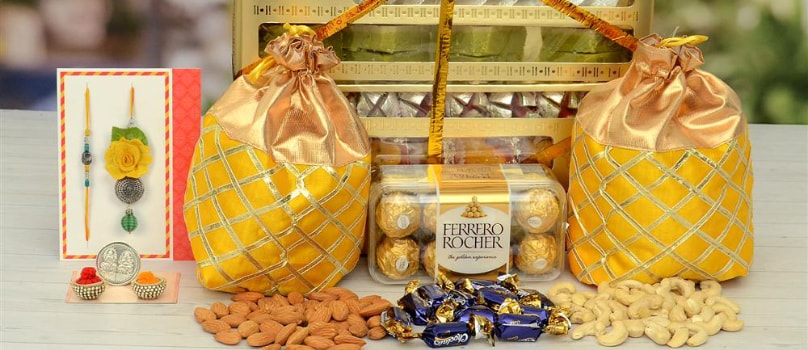 The spirit of different festivals of India are spreading worldwide. This is due to the fact that Indians have now settled across the world and a small community of Indians introduce the cult of celebrating a particular festival or occasion in the foreign land. Inhabiting abroad, away from one's family and country can be very depressing at times where there is no option to participate in any festival as in India. So NRI Indians assemble together and start celebrating an Indian festival. Just like Durga Puja is celebrated even in countries like USA and London by Bengali communities staying there. But such is not the case in the case of Rakhi. Rakhi is a festival where a sister ties rakhi threads on her brother's wrist in order to pray for his long life. Thus it is needless to say that for celebrating rakhi there should be the presence of both brother and sister together. But that may not be possible cause any of the one may stay abroad for the purpose of higher studies or work.
Rakhi to India is a grand and one of the most popular festival among Indians. Among Hindus rakhi is a common festival that binds more or less all religions together. In the country this festival is celebrated following all customs that encircles rakhi. But the spirit of the festival is somewhat hindered if the siblings do not stay in the same country. It is not possible to fly over to their sibling to celebrate rakhi. Thus the concept of online rakhi has emerged among siblings. There are many sites that help you to send rakhi to India online so that your brother may at least receive the rakhi and feel happy to know that his sister has remembered him on rakhi. GiftstoIndia24x7.com is such a site that takes care of the minorest knitty grities of rakhi festival. Here you will be able to send rakhi to India cheapest and also send amazing and unique gifts too. Also you will get every detail regarding the festival.
As rakhi is special to your brother or dearest bhaiya, but among some communities like Rajasthanis and Gujaratis rakhi is for both bhaiya and bhabhi (sister-in-law). So this Rakhi celebrate rakhi for both your brother and sister-in -law. Send rakhi to India for both of them and win their hearts. If you have doubt about when is rakhi as you are not aware of Indian festival dates staying abroad then you will get it here, Sending rakhi is not enough, you should also send some special gifts for your bhaiya and bhabhi along with bhaiya and bhabhi rakhi. If you want to give them the choice to decide on what they prefer to buy then just give them choicest Rakhi hampers from leading brands. You do not need to do any hectic rakhi shopping if you gift them hampers, which you will find in plenty at our site. Let us brief you with some of the available hampers which you may prefer :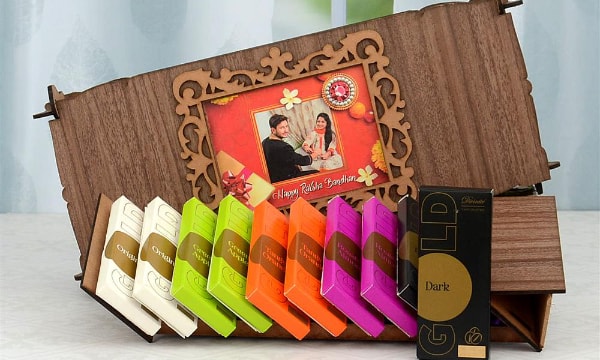 Medley of two
To enthrall your bhaiya and bhabhi on this rakhi you can present them a hamper named Medley of two. This hamper includes a chiffon saree that you can gift your bhabhi and a formal Park Avenue shirt for your bhaiya. Indian women love sarees and and for the same reason your bhabhi will love this rakhi gift. In case of your bhaiya who will be an office goer, formal shirt from Park Avenue will be the best for him. Besides sending rakhi to India for both your bhaiya and bhabhi a hamper as special gift for them would be perfect.
Awesome Surprise
Other hampers are also available at our site. Among these the hamper Awesome Surprise can be a nice option to gift your bhaiya and bhabhi. In this hamper there will be a gift Voucher from Domino's of worth Rs.500/-, Gift Voucher from Wills Lifestyle of worth Rs.1000/- and a Calvin Klein one white for Both Perfume. This hamper will truly surprise your brother and sister-in-law as they will be to dine at Domino's and have mouthwatering Pizzas. In addition they can shop for themselves from Wills Lifestyle and lastly they can use a perfume from a renowned brand like Calvin Klein.
Threesome Blend
Sweets are considered auspicious in any Indian festival. Indians share sweets during any occasion. So you can send the hamper Threesome Blend consisting of delicious and assorted Kaju mix sweets and a pack of Danish Butter Cookies to wish them a yummy rakhi. Specially if your bhaiya and bhabhi is a food buff they will simply love this gift. With these they will also receive a bunch of 18 mixed roses of different hues that are lovely and enchanting.
Do not stay alone
Express your love for your bhaiya and bhabhi by gifting a Do not stay alone hamper. The hamper contains assorted Indian chocolates, a box of Danish Butter Cookies, a sweet and cute Teddy Bear with a heart and a Pantaloons trendsetter gift voucher. All this is included in a single hamper so you will be able to give a number of gifts to your dear bhaiya and bhabhi. Thus send rakhi to India with an attractive hamper like this.
F5 Body Sprays for Men and Women
Perfumes and body sprays are a trendsetter from time immemorial. Perfumes many a time speak of your personality and the lingering fragrances mesmerise people around you. So gift a hamper of F5 Body Sprays for Men and Women which can be used by both your bhaiya and bhabhi. Their enchanting fragrance will make them a show stopper in any party they attend.
These gifting ideas can obviously delight your bhaiya and bhabhi in this rakhi. Hampers are always better than single gifts as they provide a chance to send many gifts at once to the sender. Live up to the spirit of rakhi and involve your bhaiya and bhabhi in it.