Rakhi - Festival of brotherly love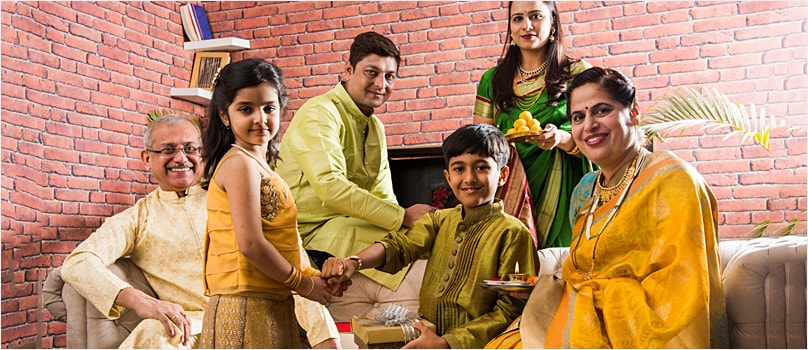 Since the very evolution of the human race, the mankind at large is abided by one relation or the other. Among these varied human bonds, the relationship that is shared by a brother with his sister or vice versa is regarded to be one of the most sacrosanct one. And it is this Rakhi festival that celebrates this ethereal bonding that is filled with a lot of honest sentiments.
Right from the Vedic times, Rakhi has acclaimed to possess a prominent position among an Indian life. No matter wherever they are, an Indian woman always send a beautiful Rakhis for their dearest brothers in India on this very day.
Right from our childhood, we share a sweet and sour relationship with our siblings. We laugh together, fight together over trivial matters, crack jokes and also lend shoulders to each other when something goes wrong. With passing times, as we pass through the different phases of life, this beautiful bond of brother-sister relationship gets stronger.
Even if we physically stay far apart from our siblings, there is no dearth in reciprocating to this emotional touch. And it is this Rakhi festival that is celebrated all over the world among the Hindus to glorify this pious relationship. Being an occasion that acknowledges the everlasting bonding of a brother-sister relationship, Rakhi, thus is a much awaited festival in India.
Being more than just a mere festival in India, Rakhi is held to be an adept mechanism in strengthening the bond of brother-sister love to the extreme. The implications of this very notion is the main idea behind celebrating Rakhi. Both siblings wait year long to shower gifts on each other on this very day. The rituals that are performed on this day also vibes perfectly with the sacredness of the day.
Sisters tying Rakhis to their brothers and praying to the Almighty for their lifelong success is the keynote of this festival. Brothers, in turn, vows to guide their sister through every thick and thin. It is the beauty of this sacrosanct human relationship that is writ large through celebrating this auspicious occasion.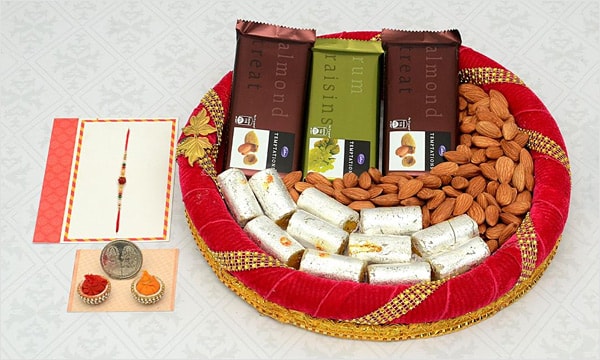 Just like any other Hindu festival, Rakhi also centres round a number of mythological as well as historical connotations reflecting brotherly love. There is a story that relates of Yama, the Hindu god of Death, and his sister Yamuna. Yama was so overwhelmed by this serene gesture of his sister that he declared that if anyone gets a Rakhi tied by his sister and promises to protect her all lifelong, he will be conferred immortality.
Coming back to reality, this festival of Rakhi also rings large with historical connections. Once, Rani Karnawati of Chittor, realizing that she could not defend the impending onslaught of the Sultan of Gujarat, sent a Rakhi to emperor Humayun. The Delhi sultanate was so touched by this noble practice that he immediate set off his troops to defend the honor of Chittor.
Then there is another saga which states that Roxana, the Indian wife of Alexander the Great, sent a sacred Rakhi thread to Porus, asking him not to harm her husband in battle. In accordance with Hindu tradition of brother-sister love, Porus paid full respect to the Rakhi. On the battlefield, when Porus was about to deliver a final blow to Alexander, restrained himself when he saw the Rakhi tied on his wrist.
Like any other Indian festival, the celebrations of Rakhi also is not complete unless proper gifting. And with the recent advancements in the fields of science and technology, the term e-gifting has made a huge uproar in the global scenario. Not only it has provided a lot of ease to the avid shoppers, but also it has allowed the global Indians to send a Rakhi to India online, with utter ease and timeliness.
With the advent of a plethora of online portals, now it has been just a child's play to send Rakhi gifts to India from anywhere of the world. Even if you have to send Rakhi gifts for your dear siblings in India, you can be least assured to find a lot of gifting ideas that is sure to impress your dear sister a lot.
Today, the affect of globalization has led a good many Indians to settle abroad. And the US, being one of the most favorite offshore destination, Indians today eye for some reliable avenues to send Rakhi to USA. This desire has been made easy with the advent of some ground-breaking inventions in the fields of computers and internet.
With this progress, the term e-gifting become a global lingo to avid shoppers, thereby mitigating the obnoxious barriers of time and distance. To facilitate in sending Rakhi to USA, nowadays many a e-gifting companies have ushered in. With this recent developments now it has been a lot easier to send Rakhi to USA from anywhere of India to let someone feel the beauty of the festival to the hilt.
Even when the day of Rakhi is over in India, the new dawn in the US vows to vibrate with the fresh essence of this sacrosanct festival. So, end of the day of Rakhi in India never restricts one from sending Rakhi to USA and celebrate it with full gusto. A large number of online sites with a large and unique arrangement of Rakhis and Rakhi gifts will definitely come handy in making this latent desire to fructify.
So, by opting for this trendy avenue to send Rakhi gifts for sister or for brother will not only assure you to send the same right on time, but also enable you to lend this upcoming festivity of Rakhi a better and brighter prospect.
Rakhi means tying of this sacred thread of protection that intertwines a brother and a sister in tandem even if they are physically settled much far from each other. Send your unblemished affections of the day with an exclusive Rakhi for brother to India via internet and let your dearest sibling feel the touch of your love and care to the best.
So, if you have to send a beautiful Rakhi to India, you can select and send the same from a myriad collection herein. Start your preparations right now, and make this beautiful Rakhi a mirthful occasion that is to be cherished for an elongated period of time.