Pongal Celebration on the Very First Day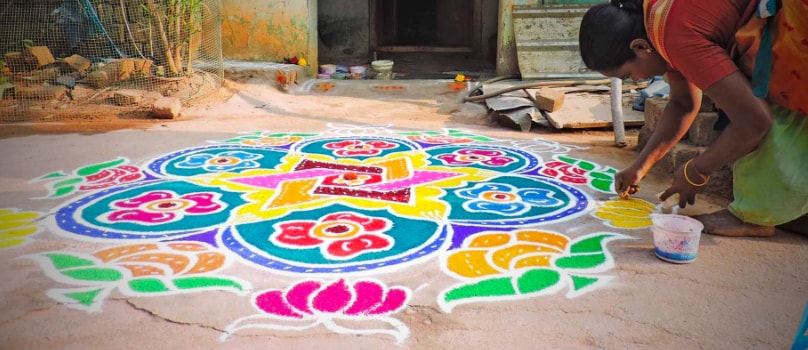 Pongal is celebrated in the month of Shravan and is a four day-long festival that focuses on cherishing the simple and natural way of life in the villages. Literally translated 'Pongal' means 'boiling over,' that is, the boiling over of the porridge that is eaten on Pongal. This sweet pudding is created from harvested rice and eaten by men, women, and animals alike. On the occasion of Pongal, people decorate their cows, take out processions, and create artistic rangolis with homemade rice flour.
Even though Pongal was originally a festival for the farming community, today it is celebrated by all. Pongal is celebrated in other parts of India as Makar Sankranti and Lohri, and thus, celebrated in some form in various parts of India. Celebrating this festival is more prevalent in Tamil Nadu, Andhra Pradesh, and Karnataka. This online store not only has these gift options but can also deliver your gifts to India from USA just the way you want and on the day you want.
Each day of this four-day festival holds a special significance. Although, city people usually only celebrate the second day with special gusto. The first day is called Bhogi Pongal. This is celebrated to worship Lord Indra, the rain god. Indra is revered because it is believed he bestows good harvest. On this day, people ritualistically discard or destroy old clothes into a bonfire made of wood and cow-dung cakes. This is symbolic of 'Thai.' 'Thai' marks the start of a new cycle, a new year in January. On 'Thai,' people draw 'Kolams,' which are floral designs made of rice made in front of houses. People also perform special offerings before they cut the paddy and smear their tools with sandalwood paste and worship the earth and sun. Moreover, people get ready for the next day by bringing fresh harvest of rice, turmeric, and sugarcane. In addition, there is a lot of merry-making, singing, and dancing. Girls perform dances and sing songs in God's praise, spring and harvest. You can share in the joy with your loved ones by sending gifts to India.
There are simple yet very appropriate options to choose from for your India gifts. Religious gifts are an all-pervasive choice when it comes to this auspicious occasion. Since, Pongal is a deeply religious event, items used in the Pooja and facilitating the Pooja are also a possible gift choice. Pooja bells, Pooja thalis, diyas, torans all form great gifts. Any happy occasion deserves sweets, be it the traditional Indian mithai or the chocolates. You can choose a combination of sweet and savory snack items, such as mithai and some sort of namkeen. Another all suitable gift option is clothing item. What's good about this option is that it makes great gift for recipients from both genders.