Online Diwali Gifts for your friends and family in India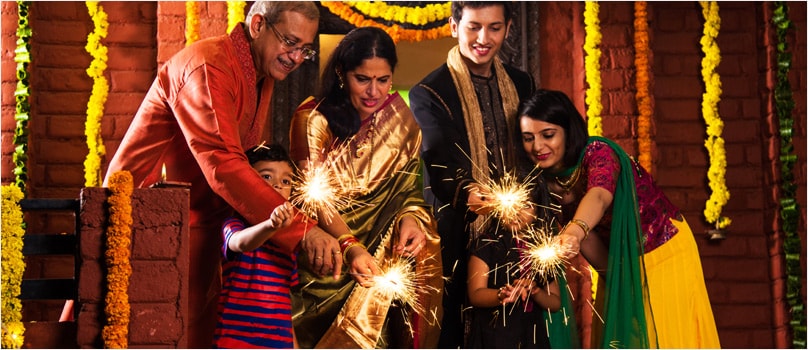 Why do people want to purchase gifts for their families, friends and other near and dear ones? It's just for the reason that a gift is the best way to express one's feelings or emotions to someone else which can be hard to express through words. Opening up a gift package and reading the heartfelt message written in the card can be an overwhelming experience no one can even ever imagine. The emotions, affection, love, care and passion involved in sending a gift take the receiver to a euphoric state. Mainly the thought that the person who has sent you the gift is actually thinking about you can make fill with emotions.
Festivals are the time when we socialize, it is time when we strengthen the bond of our special relationships be it our friends or our families. And when the world is turning into a global village as well as Indians going global, sending gifts on special occasions is becoming a tradition. India is the land of festivals. Here one can see the true reflection of unity in diversity. Diwali is one such occasion in India which is celebrated throughout the country as well as in maximum Indian communities throughout the diaspora with same zeal and enthusiasm. If you are wondering when is Diwali this festival generally falls in between mid -october and mid-november. and according to the hindu calender it falls on the darkest night of lunisolar month called kartika. A huge number of Indians residing outside of this country send Diwali gifts to India.

The celebration of the triumph of good over all evil and darkness comes as a hope for mankind. We, Indians regard Diwali as an occasion of rejuvenating all our valuable relationships. During Diwali people exchange gifts to express their happiness and gratitude. Diwali gift Hampers seems to be of the most important custom, as it conveys respect, attachment and gratefulness. Family is the most precious bond that we are blessed by birth. We recapture our sweet memories of childhood Diwali, those special moments of love and care fills our heart with sublime emotions. Now you want to spend this Diwali to your family but unfortunately you are miles away from them and will not get the opportunity to fulfill your dream. So send online Diwali gifts to India to your family to convey gratitude and love on this special occasion of Diwali.
Giftstoindia24x7.com is such an online gifting site bringing to you a vast collection of Diwali gift items suitable for your family. We offer various attractive gift vouchers for your family like dryfruits hamper, sweets hamper, chocolate hampers and flowers and cake. You can also send exclusive gifts selecting from our special tribute to your family, gifts for family. So send gifts to India and make it a blissful Diwali for both you and your family members. Diwali special puja thalis can be perfect Diwali gifts for your mother and other women members of your family. By sending this gift to India make their lives blissful and also win those special hearts who are always praying for your well being.
Another important bond in our life is our friends. There is no such meaning of living a life without friends. Friends are the pillar of strength in our teens and post-teenage. Diwali brings the reminiscence of those memorable days. So surprise your gang of friends by sending exclusive online Diwali gifts to India and walk down the memory lane with nostalgia. Shower your friends with divine blessings by sending them Shagun items, silver gifts and many more. Gift Vouchers to India will mean a lot to your friends on the festival of Diwali.
Gifts are very much significant in any occasion as it is a way to show appreciation, gratitude, respect and friendship. Though it is not necessary to give extravagant gifts because a gift convey the message that the relationship of two people is more important than the gift. So send Diwali gifts to India to express your love and best wishes on this special occasion and light up the life of your loved ones with lots of joy, gaiety and brightness.