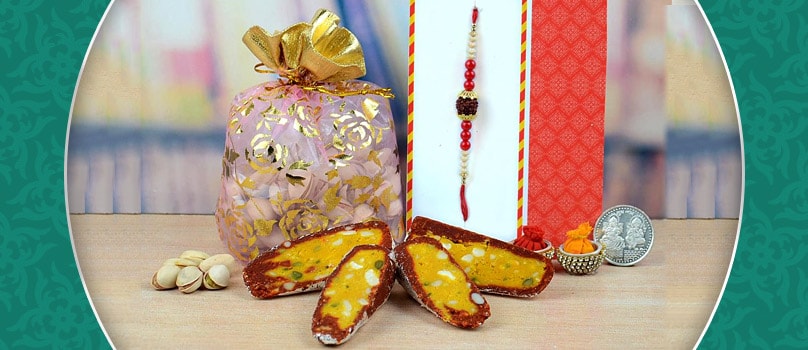 Raksha Bandhan is the time of celebrating the sweet and lovely bond shared between brothers and sisters. It is an auspicious occasion to be extremely happy about and is celebrated with lots of enjoyment and merrymaking. Rakhi is one of the many festive affairs that are deemed sacred in India. It is celebrated to commemorate the presence of siblings in one's lives. It is a toast to the brother-sister sacred relationship, recalling the beauty that it ushers in each one's life. Rakhi pays tribute to the relationship which is not only restricted to blood relations, but also goes beyond that. Those who will be staying abroad on this year's Rakhi, will be able to send rakhi to India along with various gifts and rakhi hampers for their siblings.
An important aspect of Raksha Bandhan is, exchanging gifts and pleasantries between the siblings. Gifts infuse happiness in the mind of an individual. Giving a gift is a great way to express care, gratitude and concern for your loved ones. In the present scenario, distance does not become a hindrance when it comes to giving gifts, even if one is far away. Simply browse through the online gifting portals, select whichever is apt according to you and send them as rakhi gifts to India along with online rakhi.
Talking about rakhi gifts, an excellent idea would be to send a pack of sweets, delivered to India for your sibling. Receiving a nice sumptuous mithai hamper on the day of Raksha Bandhan will leave your sibling ecstatic. Sweets have always been an integral part of our cultural exchanges. It has been an age old custom to celebrate any joyous occasion with sweetening one's taste buds with various confectioneries. It would be a nice idea to treat your siblings in India by sending them a pack of mouth-watering, delicious sweets with an online rakhi combination!
You can bet that the rakhi mithai hampers will increase loveliness and sweetness in your relationship. This gesture basically captures the theme of Raksha Bandhan to the fullest. These hampers contain myriad tasty sweets made of cashew nuts, raisins, chocolates. Assorted kaju barfi, kesaria peda, laddus, kheer kadam, kaju suraj, anarkali, kaju rolls, kaju kalash, kaju hearts, kaju watermelons, soan papri, rasgullas, gulab jamuns, karachi halwa and mewa rolls, beautifully arranged and gorgeously decked in trays and thalis are available for you to choose from, for online delivery as rakhi gifts to India.
For the ones who have a sweet tooth, mithai hampers would be a treasure chest of mushiness. Especially the all in one hampers are a superb compilation of awesomeness to binge on. Enticingly designed trays of pretty rakhi threads with a bowl of rice, roli, shagun nariyal and a host of delectable chocolates, sweets and dry fruits make an adorable rakhi gift that would be much loved by all the brothers in India. To tickle the tastebuds of your dear sibling, you can also add a few packets of snacks like Murukku, Mini Samosa, Nimki or Bake Bites from reputed brand like Haldiram's in the mithai hamper itself.
These resplendent hampers have an universal appeal and cater to the likings of people of all age groups. Along with these mithai hampers, you can also try out chocolate hampers for Rakhi consisting of various chocolates like Belgian chocolates, milk or dark chocolates, nutties and Ferrero Rocher put in the same tray along with dry fruits. Send rakhi to India along with these mithai hampers and other gifts like electronic gadgets, apparels and gift vouchers to make this year's Raksha Bandhan extra special for your dear siblings. The online service will make sure that your loved one will enjoy only the most yummy and freshly prepared sweets. The splendor of the delightful hamper will certainly add to the loveliness of your relationship.