Make Rakhi Celebrations Grand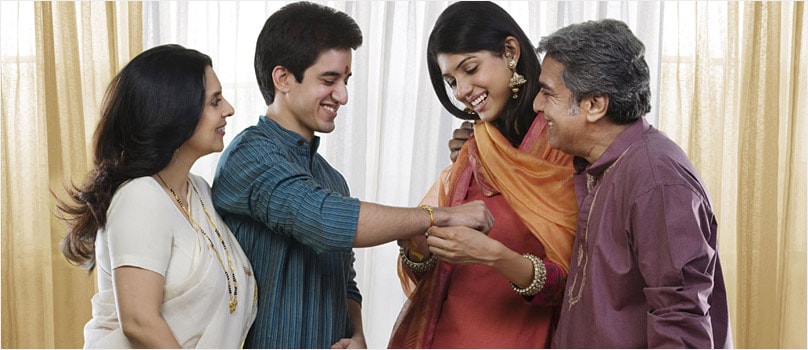 'Raksha Bandhan' is one of the popular festivals among the Indians as it is dedicated to honour the special bond between a brother and sister. This day begins with sisters offering prayer to the Almighty while tying a Rakhi thread for their brothers' happiness. Once these rituals are completed gifts are exchanged between them followed by eating delicious food and lot of fun and merry-making. It is a known fact that all look forward to these festivals as one gets to meet and catch up with one's distant cousins and relatives. However, if due to some reasons you cannot personally be a part of this festival, you can make your day special for your sibling by sending gifts and Rakhi to India with the assistance of GiftstoIndia24x7.com.
We, at GiftstoIndia24x7.com have been helping the non-resident Indians, since over a decade, to send Rakhi to India along with stunning gifts. Since Rakhi is one of the most important festival celebrated by the Indians, we have a separate Rakhi gifts section where you will come across a wide variety of gifts which you can send to your brother or sister residing in India. Furthermore, with our 24x7 customer care service, you can place an order any time of the day or night as per your convenience. To make your search easier, we have also classified our wide collection of gifts as relation wise categories.
If you are searching a gift for your brother, you can browse through our 'Rakhi Gifts for brother' category. Here, you will come across a variety of items which you can send along with Rakhi to India. Whether your brother is a teenager, college goer or a working professional, you will definitely find a gift in our section which he will be delighted to receive. It goes without saying that a teenager is into the latest fashion and trend. Keeping this in mind, we offer you recently launched mobile phones, Apple Ipod, MP3 player which will be a perfect gift for him. These mentioned items will also be ideal choice as Rakhi gifts for your college goer brother as well.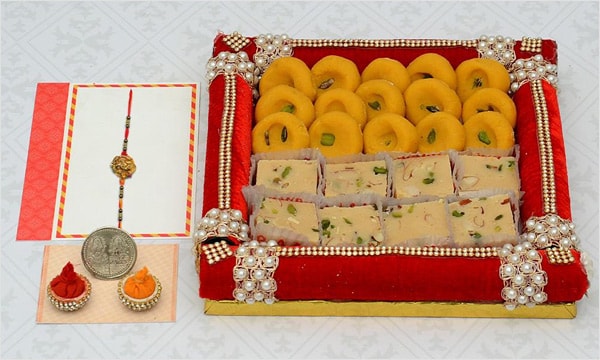 But, if your brother is a working professional then you can gift him a formal attire coupled with a matching pair of cuff-links and neck-tie. Since men and electronics go hand in hand, you can browse through our 'electronics' category for more gift ideas. Thus, send Rakhi to India along with these gifts through us and brighten his day. Besides these, we also bring you exclusive gifts for your sister-in-law. Browse through our 'Rakhi Gifts for Bhaya-Bhabi' category for some gift ideas.
Along with gifts for your sister in law, we also bring you a plethora of rakhi return gifts for sister as well. All the items which you will find in this section are segregated keeping in mind the preference of all women. From gorgeous saree, jewelleries, cosmetics to fancy bags, perfumes, etc, you will find all these in our site. Depending on her taste and preference, choose anyone and send as Rakhi gifts to India. Your sister will definitely be pleased with your gifts.
But, for your little brother or sister, these above mentioned gifts will not be suitable at all. Thus, for your little darlings, you can take a look at our 'Gifts for Infants' and 'Gifts for Kids' categories. From barbie dolls, educational games, fun toys to hot-wheels, video games, etc, you will find these all in our site. Hence, send Rakhi gifts to India to your brother or sister through us and make the celebration of the festival of Rakhi more special for him/her.