Lumba Rakhi Trends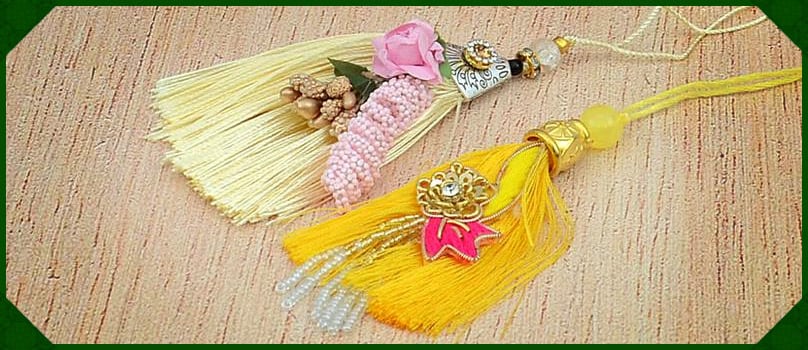 A Bhabhi is a sister-in-law's best confidante and a brother-in-law's partner in crime. They share many sweet and lovely moments together which will be cherished by one and all. A bhabhi rebukes them when wrong and loves them at the same time. This sweet relationship shared by them is celebrated during Rakhi in a very grand way. As sisters tie rakhi on the wrists of their brothers, they will also tie fancy lumba on the bangles of their bhabhis. This is a mark of how strong and pure their relationship is. Now availing to online rakhi and lumba is very easy and convenient owing to this trusted shopping portal of India.
Rakhi is knocking at the door and you must gear up in advance to book online rakhis and lumbas which are in trend for this year. Yellow metal lumbas in various styles are the best lumba style of. The metal bodies has have decoration of kundan, stones, beads etc to make them look more exquisite. They also have latkans attached to it, all with a metal body. These lumbas look very beautiful and will definitely make your bhabhi very happy. Let us see a few examples.
Yellow Metal Lumba :
These lumbas have a completely metal body with beaded latkans attached to it. They have a yellow metal body and they resemble Indian ethnic jewellery made in metal very much. Fancy designs are the main highlight of these metal lumbas. They also have stone studded on them to increase their beauty and wearability.
Kundan Metal Lumba :
These metal lumbas are quite large in shape, They have kundan work done all over the body of the lumba along with metal frame. They come in many colours. Blue, Pink, Red, Black etc. The shape of the lumba is in the form of a teardrop and it has stones and beads work on it. A small stone at the base acts as a base and the top has a square shaped part along with a metal part.
Colourful Metal Lumba :
Also trending a lot these days are metal lumbas with colourful bodies in various shapes. The various lumbas can be floral or peacock shaped with multicoloured stones attached to it. Beaded latkans, net clothes and feathers at the base of each lumba serves as a latkan for the lumba. You bhabhi will be really thrilled to receive this gift from you.
Whatever you may buy for this Rakhi, make sure you buy them well in advance so that this reliable shopping portal gets time to deliver your gifts to your beloved bhaiya and bhabhi on time. This reliable Indian gifting portal ensures timely delivery of your rakhis to India. Apart from the perishable items other items should be ordered much ahead of the D-day. Online rakhi shopping gives you the advantage of sitting back and relaxing after just a few clicks on the right portal.