Impress Your Bhaiya-Bhabi With Alluring Gifts This Rakhi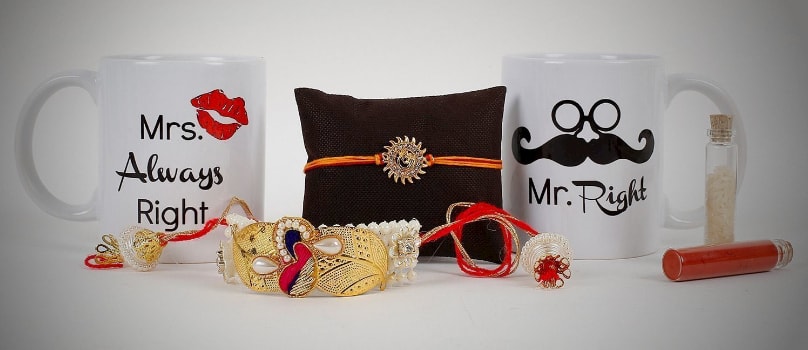 People all over the world, look forward to celebrate any festival and occasion as it brings the whole family together for lots of fun and merry-making. On these special times, you get to meet and catch up with your long distant relatives whom you have not met for a long time. Amongst numerous festivals celebrated by Indians, 'Raksha Bandhan' or Rakhi is one which is celebrated with great enthusiasm to honour the eternal bond of love between brothers and sisters. The day begins with sisters offering prayers to the Almighty for their brothers' happiness and well-being while tying a Rakhi thread. This thread signifies that in every bend of their life, their brothers will protect and be with them.
In regard to this glorious festival of Raksha Bandhan, GiftstoIndia24x7.com is worth mentioning. This is an e-gifting site that has been helping individuals all over the world to send Rakhi to India along with gifts to their dear siblings on this joyous festival. Hence, if you are unable to be with your brother or sister on this festival of Rakhi, then this e-gifting site will certainly help you to make your siblings day truly memorable. From beautiful Rakhis to gifts for brothers and sisters, we offer you all in ours site. Besides these, our exclusive selection of Rakhi gifts for Bhaiya Bhabhi is worth checking out. You can choose to send Rakhi gifts to your brother and sister-in-law as a couples gift or you can opt to send them as individual gifts.
But, before you choose the gifts, it is imperative that you keep their taste and preference in mind. This is because when we gift something to our loved ones, we want them to be thrilled to receive these gifts and not put it in the cupboard and forget about it. If you are planning to send Rakhi gifts to your dear Bhaya-Bhabi jointly, then you can opt for a pair of watches from our wide collection. You can take your pick from Titan, Citizen, Timex, Angora, Fastrack and so on. Since each off these brands are popular for their classic and stylish watches, you can be sure that your beloved Bhaya-Bhabi will be thrilled to receive these as gifts on Rakhi. Furthermore, they can treasure these timeless pieces for several years to come.
We, at Send GiftstoIndia24x7.com also offer you a range of perfumes from popular brands such as Burberry, Calvin Klein, Hugo and so on. These brands are well renowned all over the world for their sensual fragrance, hence, will make a wonderful gift for your loved ones. Along with this, you can also send Rakhi to India by choosing from our site. If you are unsure about their preference in perfumes, then you can opt to send them gift hampers. These are very popular gifts as in one gift, several items are included. We offer you these hampers of various types. Hence, choose the one which will be suitable gift for your brother as well as your sister-in-law and send as Rakhi gifts to India.
If you are planning to send individual gifts to your Bhaya-Bhabi then here are some gift ideas which may help you to choose. For your dear Bhabai, we bring you exclusive collection of jewelleries, gorgeous sarees, latest cosmetics and many more. Similarly for your brother, you can take your pick from men's formal wear, electronics, men's personal hamper and so on. If you know how to make a Rakhi greeting card then make one and include it in your gift. Your loved ones will be ecstatic to receive these as gifts from you.
But, before you place your order with us, it is essential to know when is Rakhi.