Importance of Second Day of Pongal Celebration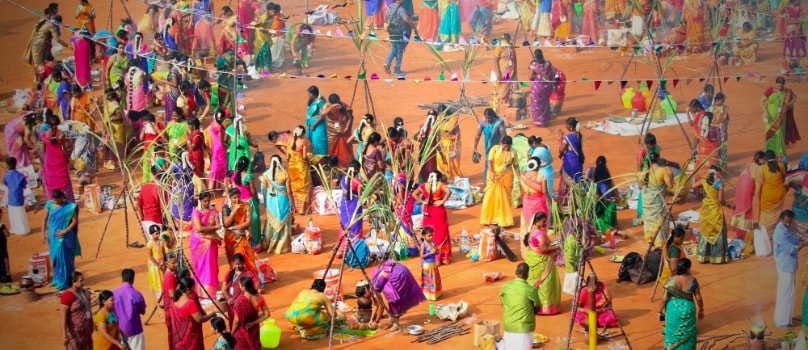 The harvest festival is celebrated all over India with different traditions in each region. It's known as Lohri in Northern India and Bhogali Bihu in Assam. It is celebrated as Bhogi in Andhra Pradesh. In Uttar Pradesh, it is called Makar Sankranti which is marked by kite-flying. Pongal is a very popular harvest festival that is celebrated in southern India.
It is a four-day celebration that marks sun's journey northwards for a six-month period. It is a celebration of change and good times to come. Pongal is named after the traditional cooking of new rice in pots until they overflow, which is the believed to symbolize of abundance and prosperity. You can wish your friends and relatives happy and prosperous times and send gift to India to shower your love. Each day of this four-day festival holds a special significance. The second day of Pongal is known as Perum Pongal.
A large part of Pongal is celebrated with food and sweet delicacies. The festival is a major gourmet delight. On the first day, sesame and rice sweet porridge is cooked. In addition, so many other amazing sweet and savory dishes such as sakkarai pongal, chakkara pongal, rava and khara pongal are cooked. The second day starts with boiling milk early in the morning. It is allowed to boil over the pot to symbolize richness of sorts in life. Also, sweets made of milk and sugarcane are prepared and distributed among friends and relatives. If you are not in India, you can send gifts to India from US through this online gift store.
The second day of Pongal also marks worship of the sun god, Surya. Which is why, this day is called 'Surya Pongal.' Women clean their houses in the morning and decorate the front porches with kolams made of rice flour and red clay. People prepare for third day celebrations as well. Decorations are made with sugarcane pieces, flowers and turmeric plants.
What items would make for amazing pongal gift ideas suitable for the second day celebrations. Since, this second day is all about sun god, good food, and decorations, you can actually choose from a selection of food items such as mithais, savory snacks, or a combination. Choose from the variety of attractive packaging available on this online store. Also, the day also marks dressing self and the house, so a gift of clothing or accessory items is great. Pick great shirts, kurtis, perfumes, and cosmetics. Decorating houses is also a favorite activity on the Surya Pongal. You can help with an amazing decoration piece to add zing to the house decoration. Also, a great gift is the statue and relics of the God Surya. You can send a standalone gift or select a combination that would work for the recipients of your gift. Bundle your package with fresh or decorative flowers to make a complete 'Surya Pongal' package.