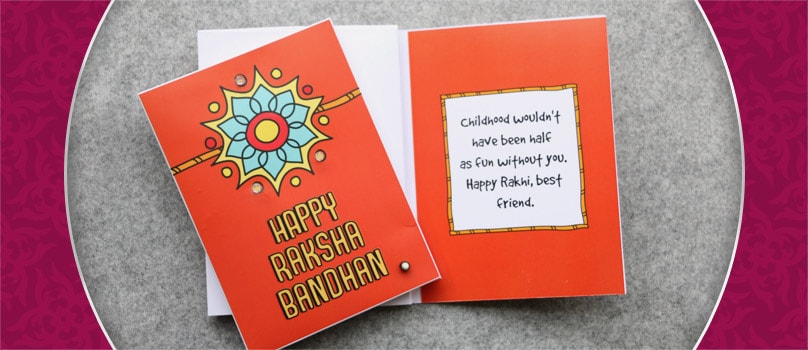 Rakhi is an auspicious Hindu festival that resonates with the beauty of a brother-sister relationship. Since time immemorial, the festival of Rakhi ushers in a deep sense of honest sentiments to its practitioners by and large. On every Shravana Purnima Rakhi is celebrated by tying a sacrosanct thread to a man's right-hand wrist by his sisters. This Rakhi thread is believed to have apotropaic powers that protect a brother from any unforeseen danger.
The brother, in turn, promises to stand aside his sister all lifelong. The practice of exchanging Rakhi gifts in between brothers and sisters are a very common phenomenon on this day. It is through this gesture that the beauty of this festival reinstates one of the most beautiful bonding of human relationships.
Though there are a plethora of Rakhi gift ideas as available today in the Indian market, wishing the day with a Rakhi greeting cards seems to be a special gesture. A card, incorporated with some heartfelt words as inscribed in it, renders the auspicious celebration of Rakhi a serene emblem. So, touch your siblings' heart in a special way on this festive celebration of Rakhi by sending them to your beloved siblings in India.
On this discourse, we will throw some light hereupon on some valuable tips of making Rakhi greeting cards appealing to the senses to a great extent. These Rakhi cards can be both handmade or printed, depending upon the wishes of the sender, and are easy and fun to make.
Here is the complete list of all those things that you will require in making beautifully embellished Rakhi greeting cards. These list includes: some handmade paper panel cards; water or poster colors to paint; tinkles, sparkles, threads, and ribbons for decorative purposes; and a glitter gel pen for writing the text.
Now here is the method: Cut the cardboard paper into a desired size of 7 inches x 11 inches as this is the ideal Rakhi cards' size, and fold it in the middle. Leaving a half inch white space along with its border, paste the thread. The size of this rectangular space may vary as per your design requirements. On the inside of the rectangular space, if you like you can paint some decorative motifs using some bright and vibrant colors, like red and yellow. Write "Happy Rakhi" or some other catchy line that you have in your mind in the center, and decorate the whole with ample of sparkles and tinkles. You can also make a bowknot of the ribbon and affix it on the left-hand corner of the card. Complete this effort by writing your message inside the card. Now your handmade Rakhi greeting card is all set to be send for your dearest sibling in India.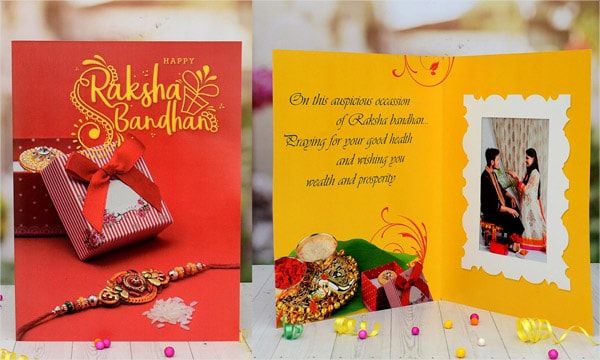 By now, you must be wondering to know that when is Rakh? If your answer is "Yes", then it is to inform you that, the festival of Rakhi falls on August. So, as you now know that when is Rakhi you ought to prepare yourself to get hold of a nice gift that would surely appease the taste of your dearest sibling in India to the most.
Thinking of how to send your wishes on this auspicious occasion to your dear sibling as settled in the States? Well, now we will try to give an insight to this question of yours. Now you can also avail the online services of a plethora of e-gifting sites across the Atlantic to send your Rakhi to USA. Eying to the whooping number of Indians settled in the US, these online gifting portals have ushered in to help you. By these means, send Rakhi to USA and enjoy the festival to the very best.
The extensive collection of online Rakhi to USA is sure to impress your sibling, as situated therein, a lot. All these Rakhis and Rakhi gifts are sure to delight all. Send Rakhi to USA online, and usher in a sense of attachment, deep love and affection to your beloved sibling's mind.
Start your preparations right now, and make this Rakhi a mirthful occasion that is to be cherished for an elongated period of time.