How do People Celebrate Diwali in India

Diwali, the brightest and the grandest festival of India, is observed by all people across India with great enthusiasm and fervour. Diwali is a national festival in the true essence since people of all age groups, all regions and all religions celebrate this festival of lights with equal zeal. The auspicious occasion of Diwali holds significance for all religions and every region of India has their own legends and interpretations. But common to all practices is the custom of lighting every dwelling, every street and every corner with lighted diyas, lamps, candles, electric lights, bursting crackers and exchanging gifts between family, friends and relatives.

The lighting of the lamps symbolises obeisance to God for the attainment of peace, fortune and prosperity. The light stands for the symbol of the triumph of good over evil; of knowledge over ignorance and the initiation of the light of spirituality in our souls.

Northern India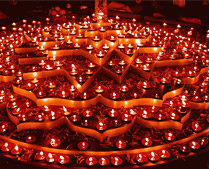 Diwali in Northern India is celebrated with sheer pomp and grandeur. However, different states have different customs and rituals. Starting from Ekadashi, the festival goes on till Amavasya. Shopping and buying new clothes, furniture, jewellery, utensils on the eve of Dhanteras mark the beginning of this festive celebration. People clean, paint and decorate their houses with various home decor, colourful rangolis and lighted diyas. Every nook and corner are lighted with diyas, candles and electric accessories and crackers are burst all through night. The elders of the family would keep a fast on Amavasya and break their fast after worshipping Goddess Lakshmi in the evening or night according to the initiation of the auspicious moment.

In Delhi, the capital city of India, Diwali is as grand as the city. Here, Diwali is associated with the victory of Lord Ram over the demon king Ravana. Ramlila, the dramatic enactment of the story of Ramayana, is staged around every street corner in Delhi during the Diwali celebrations. The celebration begins at Dussehra where people burn effigies of the evil Ravana. Varanasi during Diwali becomes the land of myriad lamps. All the ghats in Varanasi are lighted with diyas. In Punjab, winter crops are sown during this auspicious occasion.

People buy sweets and dry fruits and give them to their loved ones as Diwali gifts. Elder people also present cash to their loved young ones as gifts .

Western India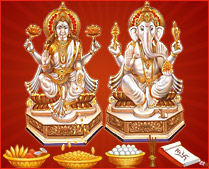 Maharashtra celebrates Diwali in a unique way. It is celebrated for five days.
The festival begins with Vasu Baras where married women worship cows that have calves and ends with Tulsi Vivah where people organize the marriage of the holy Tulsi plant in their houses. However, lighting diyas and celebrating light is also a part of Diwali celebrations in Maharashtra.

In Gujarat, the occasion of Diwali is observed with grandeur and gaiety. It begins on the 11th day of Krishna paksha in the month of Ashwin; 12th day is the 'Vagh Baras' which is similar to the Vasu Baras in Maharashtra; 13th day is Dhanteras; 14th day is 'Kali Chaudas' which is a custom of applying gram flour, kumkum and oil and take a bath before sunrise; the festival ends on the 15th day with Lakshmi and Ganesh puja in Gujarat. Diwali is also celebrated in a grand way in Rajasthan. Lighting diyas, bursting crackers, decorating houses, family and friends gathering and sumptuous treat mark the celebration.
Southern India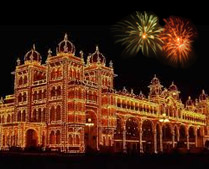 In Southern India, the auspicious day of Diwali commemorates the vanquishment of Asura Naraka by Lord Krishna. Hence, the day is known as Naraka Chaturdashi. In the south, Diwali is celebrated in the Tamil month of Aipasi. The houses are washed and decorated with rangolis, known as kolam in Southern India. The pooja room is decorated with betel leaves, betel nuts, flowers, plantain fruits, sandal wood paste, turmeric, kumkum and gingelly oil. The next day diyas, candles are lighted and crackers are burst in the evening.

Karnataka observes the festival of Diwali to commemorate the vanquishment of King Bali by Lord Vishnu in his Vaman avatar. Celebrations are similar as that of Tamil Nadu. However, Kerala does not observe the festival of Diwali with the same fervour and excitement.
Eastern India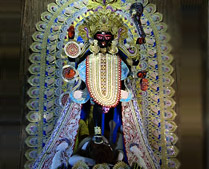 In West Bengal, the Bengalis worship Goddess Kali on this auspicious occasion. According to popular belief, the goddess destructs all evils. The festival of Diwali stretches for three days in Bengal. The day before Kali puja, Bengalis light candles in the evening in the memory of the departed souls of their ancestors. The main day is marked by lights, crackers, feasts and family gatherings. Celebrations in Assam and Bihar are also marked by lights, crackers and celebration. However, Orissa celebrates the festival in a unique manner. Before the Diwali eve, people in Orissa performs a small ritual that calls upon the spirits of the family's forefathers. Jute stems are burnt to light up the dark path that the spirits of the ancestors take back to return to heaven.

The festival of Diwali stands as a symbol of togetherness and cheerfulness. If you are staying abroad, you can make your presence felt during the auspicious occasion by sending relevant gifts to India. Connect with your loved ones in India this Diwali with special gifts and shower your love and affection on them from your far abode.