How is Rakhi celebrated across India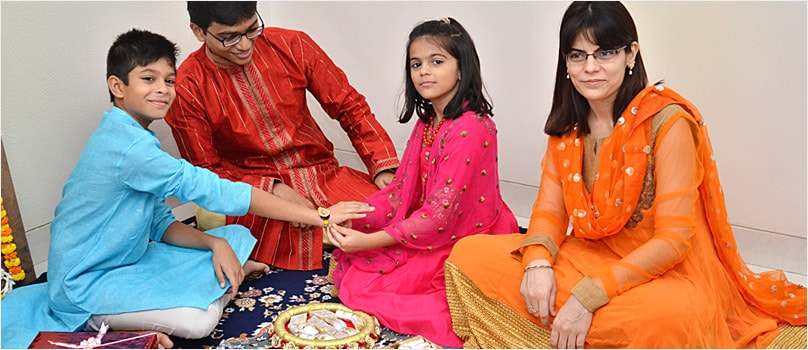 Rakhi or Raksha Bandhan is one of those traditional occasions in India which is treated with utmost respect and celebrated widely across the length and breadth of the nation with great gusto. The event is dedicated to brothers and sisters and celebrates the eternal bond of love between them.
The term "Raksha Bandhan" has been derived from the Sanskrit word meaning, 'to tie the knot of protection'. This means, a brother is supposed to act as the shield to his sister in times of any trouble or difficulty. It is an untold vow shared among the two. While the sisters tie the thread on the wrists of the brothers as a gesture of eternal love, respect and gratitude and wish them a long, healthy and prosperous life, the brothers at the same time pledge lifelong protection to the sisters from all oddities.
When is Rakhi?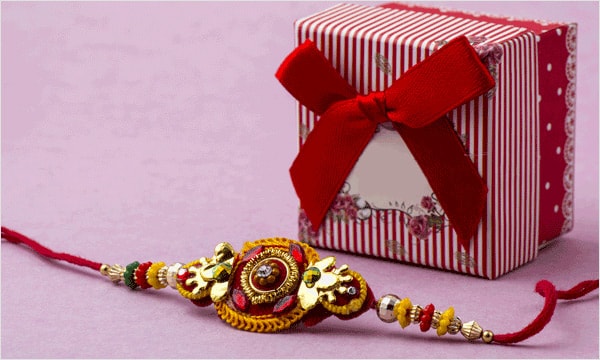 According to traditional Hindu calendar, Raksha Bandhan is celebrated on a full moon day, in the month of Shravan. Hence, the day is also known as Rakhi Purnima. The beauty of this festival lies in the fact that it is not only celebrated among siblings related by blood but also celebrated amongst men and women who are not related by blood. Steadfast faith and enduring love are the real essence of Raksha Bandhan.
Rakhi Customs
On the day of Rakhi, the sisters take a bath to purify mind and body before starting any preparations. Then they prepare the puja thali consisting of roli, tilak, Rakhi thread, rice grains, agarbattis (incense sticks), diyas. shagun nariyal and sweets. Then they perform aarti before their brothers with this thali and tie the Rakhi thread on the wrists of their brothers. This ritual is of immense importance because the thread and the knot signifies the bond shared by the siblings. Then, they put kumkum powder on the forehead of their brother and offer sweets. All the while the sisters utter various mantras wishing for long life and prosperity of their brothers. In return, the brothers pamper their sisters with various gifts and promise to protect them from all the evils of this world.
India is like one single continent that houses various countries, each with its unique culture, language and way of lifestyle. That is why the rituals performed on Raksha Bandhan may vary from place to place but carry the same aura everywhere. For example, on the occasion of Rakhi, the states of Punjab, Odisha, West Bengal, Gujarat etc. usher in celebrations and festivities.People shower their love and blessings on their near and dear ones with gifts during the Rakhi ceremony.
Such is the enigma and charm of Raksha Bandhan that even if siblings are unable to be physically present on the particular day, in the age of globalization they make it a point to send their best wishes via online Rakhi India delivery services. Through their prompt and trustworthy services, these websites will make sure that apart from sending Raki to India you can also convey your love traversing long distances from countries like UK, USA and Australia.
Rakhi in Hindu Mythology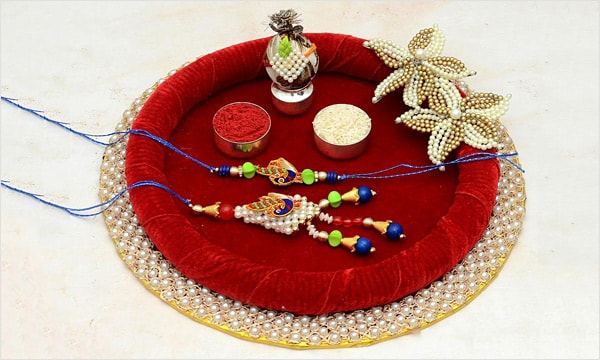 Since times immemorial India has witnessed the wonderful affection shared between siblings. Indians hold Raksha Bandhan in high esteem. Stemming from a host of ancient beliefs, Hindus, Sikhs and Jains continue to follow this tradition with undying faith. According to Hindu mythology, it was Draupadi who tore a piece of cloth to tie on the wound of Krishna when he was bleeding, after having beheaded Shishupal. Krishna kept his vow of protecting Draupadi during the infamous 'vastraharan' episode of Mahabharata. Another mythological instance of Raksha Bandhan was between Bali (the demon king and ardent follower of Lord Vishnu) and Goddess Lakshmi (wife of Lord Vishnu). It is said that Lakshmi tied Rakhi to Bali's wrists and asked that she and her husband be allowed to return to Vaikuntha (abode of Lord Vishnu and Goddess Lakshmi).
Rakhi in History
The historical references say that just before Alexander the Great and King Porus's battle, Roxanne (Alexander's wife) had sent a rakhi to Porus asking the king not to harm her husband. Porus did respect her request. Another incident tells that Rani Karnavati of Chittor sent a rakhi to Humayun asking for protection from the invasion of Bahadur Shah. However, according to some of the historical accounts, Rajput queens were known to practice the custom of sending rakhis to neighbouring rulers to foster fraternal ties and ensure peace among the kingdoms. This request was honored by Humayun. Many years down the line, Nobel laureate Rabindranath Tagore started the tradition of Raksha Bandhan between Hindus and Muslims on the occasion of Bengal Partition, to evoke communal harmony between Hindus and Muslims during British rule, to dissuade riots. It was meant to symbolize unity and mutual respect for each other's religion.
Raksha Bandhan Across India
India has always boasted of the saying "Unity in Diversity". In a multi-cultural land like India, the festival of Raksha Bandhan assumes different names and exudes colourful vibes. In Mathura and Vrindavan of Uttar Pradesh, Mayapur of West Bengal and in Odisha, Rakhi Purnima coincides with the last day of Jhulan Yatra. In these places, the occasion is also known as Jhulan Yatra. In Kumaon, it is celebrated with Janopunyu, when men change their sacred threads. In the northern part of India, this festival is also well known as Kajri Navami or Kajri Purnima and is celebrated by worshipping Goddess Bhagwati. The festival is even termed as Nariyal Purnima in Maharashtra, where coconuts are offered by fishermen community to Varuna, the sea-god. With the advent of online gifting portals like GiftstoIndia24x7.com, the trend of selecting online Rakhi India and sending them to your loved ones is fast catching up. Send Rakhi to India for your loved ones and make the occasion of Rakhi a memorable one.