How Pongal is Celebrated on the Third Day?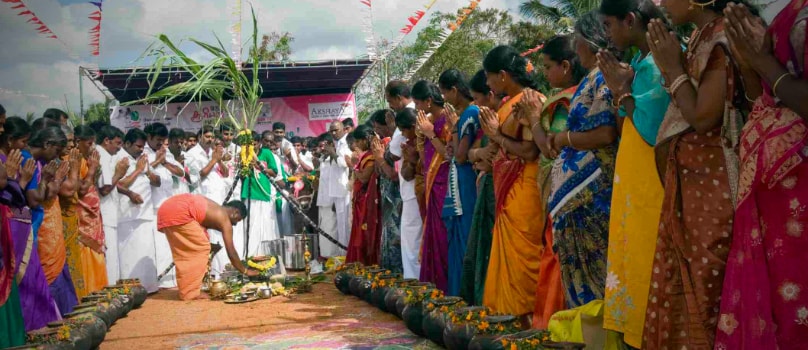 Pongal is a four day-long festival that focuses on cherishing the simple and natural way of life in the villages. Literally translated 'Pongal' means 'boiling over,' that is, the boiling over of the porridge that is eaten on Pongal. This sweet pudding is created from harvested rice and eaten by men, women, and animals alike.
Each day of this four-day festival holds a special significance. The third day of Pongal celebration is called the Mattu Pongal. This day is all about appreciating the animal life and their importance in day-to-day people's life. People thank cows and buffalos since they are used in ploughing land. Farmers worship the farm animals who help in growing a harvest. They bathe the cattle, paint their horns, and cover them with metal caps and decorate them with multi-colored beads, tinkling beads, flower garlands, and bunch of corn around the necks. People touch the animals' feet and smearing their foreheads with chandan and kumkum. The animals are fed the traditional Pongal made from new rice, moong dal, and ghee. A sweeter variety is also made. You can send gifts to India from USA and participate in the austerities of the occasion.
Another striking feature of Mattu Pongal is a festival by the name, Jallikattu or taming the wild bull. While these kinds of events take place throughout Tamil Nadu, they are more popular in and around Madurai.
So going by the theme of the event, the India gifts you choose from when you pick your gifts could be similar to that. You can consider the usual but good gift choices such as clothing items, cosmetics, photo frames, and jewelry, since people do get dressed-up and wear their best on Pongal like any other festival.
You can send gifts to India on Pongal with items like sweets, flowers, chocolates, dry fruits and others which would serve as absolutely amazing gift items. You could also personalize many gifts on pongal to make it an occasion worth remembering. You can also consider gift items that have an animal theme or depict animals. Be mindful that the animals we are talking about are the farm animals, the animals that were helpful in bringing in a bountiful harvest.