Historical Significance of Bhai Dooj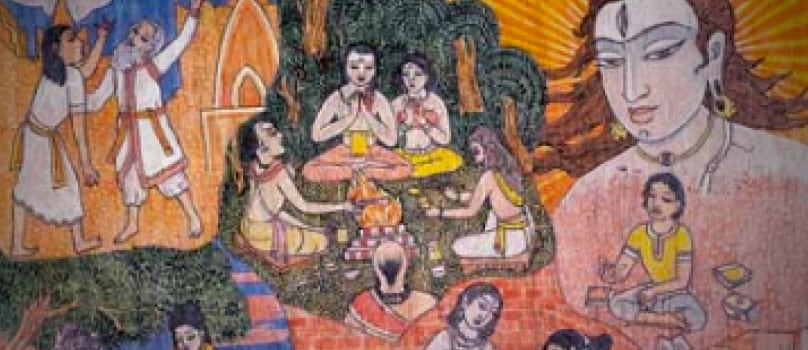 Bhai Dooj or Bhratri Dwitiya ends the celebration of Diwali that continues for a period of five days. This day is a celebration of the bond of love and care that exists between a brother and a sister. The festival of Bhai Dooj is known by many different names in different parts of India like Bhau Beej and Bhai Phota. The sister applies a tika on her brother's forehead that is made out of varied items like vermilion and sandalwood. It is a common tradition to exchange gifts on this occasion and thus sending India gifts online is a well known practice. There are many interesting stories and myths behind the celebration of Bhai Dooj which lends it a lot of historical significance.
Bhai Dooj Historical Significance
The most popular story behind the Bhai Dooj celebration is that of the siblings Yama and Yamuna. They are believed to be the children of Surya and Samjna who were separated by their evil stepmother Chhaya. Yama became the God of death in hell while Yamuna became a swift flowing river on the face of earth. When several years had passed, Yama visited Yamuna who welcomed him with a tika on his forehead. Yama then granted that being the God of death he would grant a long life to all brothers whose sisters applied a tika on their foreheads on this particular day in honour of his sister Yamuna. There is also the myth of Lord Krishna and his sister Subhadra which also gives some credence to this tradition. Krishna visited his sister Subhadra after defeating the demon Narakasura who then welcomed him with a tika on his forehead.
Being away from your siblings during the festival of Bhai Dooj can be hard but sending exclusive gifts for them may cheer them up. This reliable online gift store houses a large variety of Bhai Dooj gifts to India that are perfect for this occasion. All of these gifts can be easily sent to your brothers and sisters in India in time for this grand celebration.
Bhai Dooj Gifts
You can opt for spiritual gifts to India for your siblings that are very apt as this is a much revered festival. The Amazing Lord Krishna Showpiece is a spiritual idol gift that is completely white in colour with studded stones. There are several home decor gifts on this online gifting portal that your brother or sister can use to decorate their home. The Beautiful Artificial Love Tree Showpiece is an artificial potted plant that has a green colour in a heart shape.
Special gifts for brothers on this gifting site include perfumes for brother on bhai dooj from various well known brands. The Ice Dive Edt Spray is from the house of Adidas and has a citrusy fragrance suited for casual wear. You can also get men's personal care items for your brother having various necessary items. A Mixed Bag Of Goodies For Brother contains many skin care products from Gillette and Park Avenue.
Knowing the historical significance of a wonderful festival like Bhai Dooj will surely help you understand it better. These and also other gifting options can be sent as gifts to India from US and other countries on this occasion. You can also look into the other gift ideas here for a variety of other festivals and events like Christmas.