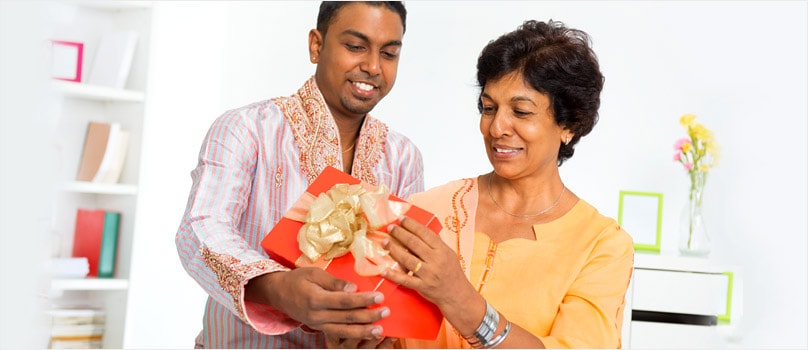 God could not be everywhere and therefore he made mothers. ~Jewish Proverb
There is nothing more appropriate a quote which can signify the importance of a mother in the child's life. The child finds mother in every emotion, every phase of his life. The child finds his best friend in his mother, with whom he can share some of his deepest desires, wishes and feelings. There are some of the most beautiful moments that are spent by a child and his mother together. A child sees the world through the eyes of his mother. He sees heaven in her feet. The mother can read the pulse of her child. She makes the child feel special. Mother's day is that day of the year when you get the opportunity to express to your mother how much special she is for you. GiftstoIndia24x7.com lets you say, "Happy Mother's Day" in style with a wide array of Mother's day gifts to send to India.

A mother is the greatest gift which God gives to a person. No amount of gifting can match up to that one gift she has given you- Life. Mother's day is a day for all of us to convey the message about the special place that our mother holds in our heart. All your life, your sadness have never found you alone. Your mother has always battled the sadness with you and you have come out of it stronger and happier. A mother and child relation is one of the most sacred in the entire world. All through his life, a person may undergo many changes. But the only changes that, thankfully, never happens is the mother's power to keep alive that bond of love. Giftstoindia24x7.com lets you send mother's day gifts to India and help make a smile on the face of your mother.
Times have changed and now people have to stay far and wide from their loved ones owing to work or job commitments. They have to stay far from their loved ones for months on end. India has developed immensely and now many foreign companies have set-up their base in our country. This marks a very important transition, a transition where many people have to leave for foreign shores. This results in the fact that many people miss out on important occasions. And so they are in the look-out to send gifts to India. Mother's day is an important occasion and so many Indians staying abroad want to make their mother proud and so they want to send mother's day gift to India. A mother cherishes her child when she sees her child has sent gifts to India, especially for her. The gifts make her feel special, to an extent when she becomes much more happier.

Mother is a symbol of the highest form of love, care and dedication. They shaped our future by their love, knowledge and wisdom. When we leave for foreign shores, it is their heart that pains and longs for us to return. Gifting her a beautiful mother's day gift to India will tell her how much you miss her. GiftstoIndia24x7.com lets you send beautiful gifts to India to your mother which are gonna impress her very much. Flowers and Cakes are perfect gift for your mother in India on the eve of Mother's day. Also, send Serenades as a perfect gift to India to your mother. Serenades consist of wide variety of the choicest of gifts giving you the privilege to truly surprise your mother in style in the days up to Mother's day. So, wait no more and send gifts to India to your mother to make her Mother's day absolutely special.