Send gifts to India on Durga Puja and convey your warm wishes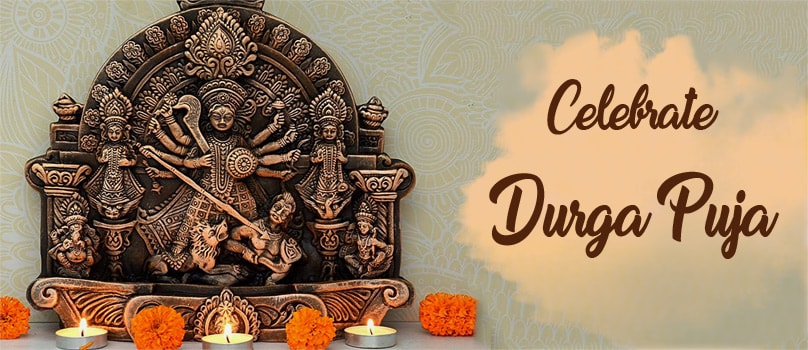 Come to India on this October and you will experience the celebrations of the most pompous Hindu festival - Durga Puja. Overlapping the stature of just a mere festival, Durga Puja has acclaimed to the status akin to that of a carnival. A time for homecoming, the Pujas script a sound admixture of unadulterated fun, frolic, and amusement. Durga Puja is an inseparable part of Bengali culture and tradition. And offering the annual worship to Goddess Durga has been a much popular practice since time immemorial.
Adorned in new attires, Bengalis in India flock together to hop through different pandals with an intense enthusiasm. Irrespective of their backgrounds, regardless of their religious beliefs, people from every strata of the society participate and enjoy themselves to the hilt. It is through an entire year that the Bengalis save their fortune to enjoy during the Pujas. Durga puja coincides with Navaratri and Dussehra celebrations observed by other traditions of Hinduism.
Being a joyous celebration, both feasting and gifting during the Pujas is widely observed by the Bengali community. They shower gifts to their friends and family during this time of the year to enjoy the vivacity of this five day long festival with great zeal. A gala feasting and exchange of Durga puja gifts during this period of time is also commonly practiced by the Bengali populace. But nowadays, to follow-up with the recent career trends, many of the Bengalis are located to some offshore destinations.
With the advent of a new century, there has been a lot of ground-breaking inventions in the fields of science and technology. This eventually has led to the inception of a host of online gifting portals that has made it easier to send gifts to India during the Pujas. Most of these migrated candidates now go online to send their Puja wishes to India with some gifts. This newest avenue has proved to be much efficient as compared to the age-old offline procedures that is bound to involve hassles.
To enable an NRI to send puja gifts during this period, many online companies have emerged. Of these, GiftstoIndia24x7.com plays a pivotal role. It is since 1999 that this very gifting company is facilitating the global Indians to send their gifts on Durga Puja in India. With a prompt delivery, desire to excel, and top-class service, this aforesaid portal has created a separate niche among its peers.
Even if you wish to convey your Durga Puja greetings to your loved ones in USA, you can do so by affording the global services of GiftstoIndia24x7.com. With their presence across the Atlantic now it has been just a child's play to let them feel your loving touch on this Durga Puja. To savor the world-class comfortable amenities, now send your gifts to USA herewith. Make this auspicious occasion brighter. make this Durga Puja an event to be remembered for an entire lifetime.
Ranging widely from chocolates to sweets, from dry fruits to Puja hampers, be sure to find herein whatever you wish to gift your loved ones. The site also showcases gifts as per different human relations. And just as thalis are regarded to be one of the most essential element for Puja offerings, you can also send some nicely decorated and well-equipped Puja Thalis herewith. The mesmerising collection of these gifts is sure to let your Puja wishes be conveyed to India in an appropriate manner.