Gifts of Exotic Flower Arrangements to make moments special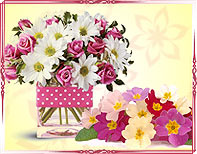 Flowers make excellent gift option in most of the occasion and festivals such as Birthday, Anniversary, Valentine, Mothers' Day, Teachers' Day, Diwali and so on. Some people find flowers as the perfect gift since it inspires one to have a good day ahead, how hard life seems to him/her. Flowers are such as roses are chosen due to their beauty and fragrance. Flowers moreover, heighten the decor of a room or office. Some flowers are perfect gift for people who are in love. Flowers can also be added with other gifts that would definitely make the gift even more attractive. Send gifts to India on any occasion and make the moment even more special.

GiftstoIndia24x7.com, one of the most proficient gifting portal has been delivering online gifts since 1999. And has won many satisfied hearts owing to its dedicated customer support team and proficient delivery service. Its great collection of gifts also deserves a special mention. Not only in India you can also send gifts to other countries such as UK,USA,Canada, Australia and so on. Hence whatever may be the destination, you can be rest assured that your gifts to India will reach the recipient on time and in perfect condition. Since we are discussion about flowers, this is a wonder gifting idea that can add color to any ambiance. This portal has arranged a wide collection of Flowers to send as gifts.

Each flower has a special meaning and significance. Not only this, flower speaks thousand words that your words may fail to convey. Hence on any special occasion, a bunch of flowers is a perfect gift to express your love and precious emotions. Flowers furthermore, is a token of love and a perfect way to greet one. Occasions such as Mother's Day, Father's Day or Parent's Day, the special person is honored, showed love and gratitude with a bunch of flowers. Flowers also can be a perfect gift to say one 'Thank You'. Nothing comes in compare to flowers to send as Congratulatory Gift or Sorry Gift. Hence whatever may be the occasion or event flowers play a significant role.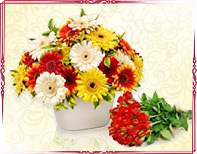 According to Christian legend, pink carnations are believed to have first grown where the Virgin Mary, shed tears over Jesus's death. Hence, people believe carnations are the symbol of a mother's unconditional love and care towards her child. Red carnations signify admiration while white ones stand for the remembrance who is no longer alive. Hence if you are planning to gift that special person this season, you can definitely go away with carnations. In the Carnations section, you will find a wide collection of arrangement to make your pick from.

In the Flower Arrangements section, exquisite flowers are available in varied arrangements. These flowers are decorated in attractive vases and handmade baskets, which again are decorated with satin ribbons, nets and so on. Flowers such as roses, orchids, carnations, lilies, gerberas are many more to name a few are arranged in these flower arrangements.

Valentine's Day is the day to show love and affection to that very special person in your life. To make this occasion joyful, you can send roses or some Valentine special flowers. A bunch of roses convey your feeling without words. If you send gift to your friend, yellow roses would be a perfect choice this Valentine. And best gift for your beloved is a red rose, that may be single or in a bunch. In the Roses section of this portal you will be overwhelmed to see a great collection of flowers. To make your occasion extra special, these roses are again decked and arranged in handmade baskets and vases

Since no occasion or festival is complete without beautiful flowers, send exotic arrangements of flowers on any occasion to add charm to that special event. Flowers as gifts will be cherished by your loved ones, no matter what the event is.