Delightful Gift Ideas of Karva Chauth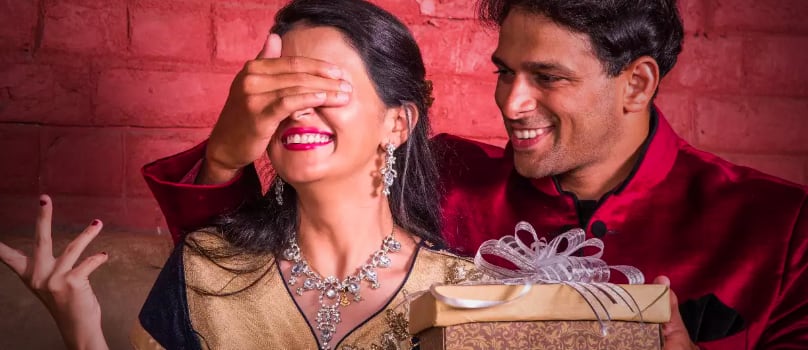 Karva Chauth is one of the auspicious ceremony which celebrates the pious and the eternal bond of husband and wife. It is practised by every married woman who keeps a day long fast for the health and well being of her husband. It is observed on on the fourth day after the full moon of the month of Kartik. It is believed that this propitious day nurtures and strengthens her relationship with her husband and other relatives.
This fasting begins with sunrise when the married women have their pre dawn meal 'sargi'. All the women adorn beautiful and gorgeous ethnic wears with dazzling jewelleries which escalates the festive spirit of the occasion. After seeing the moon in the evening, they conclude their fast drinking a sip of water from their husband's hand. All the women perform this holy ritual together with their relatives, friends and neighbours. After the completion of every ritual, every lady receives delightful gifts from her husband, parents and her in laws. GiftstoIndia24x7.com, one of the most popular and proficient online gifting portal have arranged an exclusive range of Karva Chauth Gifts. These gifts, even if you are miles away, will convey your heartfelt wishes of the occasion.
Sargi:

On the auspicious day, every mother in law prepares a special dish for her daughter in law which she haves before sunrise. This is known as Sargi. If the mother in law stays far from the married woman, Sargi is the most conventional gifting option of Karva Chauth. Along with its ritualistic significance, it holds immense emotional value. GiftstoIndia24x7.com has brought a rich assortment of Sargi gifts which include sweets, dry fruits, fruits and many more. These gifts will truly manifest your profound love and endearment to dear 'Bahu'.

Ethnic Wears:

In the evening, every married woman who keeps the day long fast adorn themselves with gorgeous ethnic wears. Sarees and Lehenga Cholis in bright hues are the most coveted apparel of this festivity. We have brought a traditional yet modish collection of sarees, salwars and lehenga cholis which reflects the true essence of Karva Chauth. Get your dear lady the most suitable ethnic wear from this diverse collection to escalate the joyous spirit of this festival.

Personal Care Products:

Every woman likes to look good. Accentuate your wife's or your daughter in law beauty with these delightful make up goodies. Made by the most popular and esteemed brands of the world, these personal care products will provide all the essential nourishments to bring the true diva in her. With these cosmetics hamper, attach exclusive perfumes to make it a perfect gifting combo of Karva Chauth.

Fruits:

On the auspicious day of Karva Chauth, different seasonal fruits are offered to God. Later, it is consumed by the family members, relatives and friends as 'prasad'. Give your dear ones in India a special surprise by sending a basket of nutritious fruits. All your dear ladies who are observing a day long fast will be delighted to receive this gift. Your nourishing treat will heighten up the Karva Chauth celebrations back in your home.

Pohi:

Every married lady presents expressive gifts to their mother in law known as Pohi on Karva Chauth. This ritual strengthens the bond that every mother in law shares with her 'Bahu'. Express your gratitude and wishes with these heartwarming Pohi gifts that include sweets, dry fruits and exclusive spiritual gift.
The festival of Karva Chauth have tremendous social significance. It is known to celebrate the essence of our rich culture within its usual fanfare. Select the best gift for your wife, daughter in law or any dear lady who have special influence in your life and make the occasion a cherishable memory.