Gift Hampers And Gift Vouchers For Your Parents on Parent's Day 2011
Parents Day is celebrated all over the world on the fourth Sunday of July in order to honor of parents and their role in bringing up the children. This year, the special day will be celebrated on 24th July, it is in fact the best day to shower parents with love and also with gifts. If you are looking forward for celebrating Parents Day even if you are staying outside India, you can take the help of GiftstoIndia24x7.com, which helps the NRIs to send gifts to India on various occasions and festivals. Our website not only helps to send gift to India from US but also from other countries.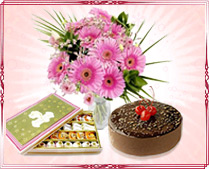 In our website, you will find that a separate section has been created for Parents Day. This special section is filled with gifts sending which will surely be appreciated by your parents. From flowers to cakes, sweets, personalised gifts, etc are displayed here from where you can choose. Of the different gift categories showcased in this section, two of the most popular ones are Gift Vouchers and Gift Hampers. You can send Parents Day gifts to India from our excellent collection of gift vouchers and gift hampers.
Gift Hampers is one of the most preferred gift items that are preferred by everyone. You can surprise your parents by sending gift hampers to India on Parents Day. With our collection of hampers, you can be sure that your parents will be mighty pleased on receiving these. The most added advantage of the gift hampers is that these come with combination of more than one gift. This means, while one gift hamper might have different brands of chocolate offered as a single unit, on the other hand, some other hamper might come with chocolates, sweets, dry fruits and other gift items.

Choose from our array of gift hampers and send to your mom and dad to make them feel really special on Parents Day. Our gift hampers come with variety of interesting gift combination. From cakes to flowers, gift vouchers, apparels, perfumes, soft toys and more are offered in our gift hampers. With the help of the gift hamper 'Divine Gift Hamper', you will be able to send three gift vouchers offered each by Gili, Shoppers Stop and Titan. On the other hand, you will be able to send apparels to your mother and father with the help of 'Medley of Two' gift hamper. If you want to send perfumes with other gifts through the gift hampers, you can choose from 'Wonderful Pair', 'Passion of Love', 'Fragrance Beauty' and many more. You can also send individual gift hampers to your mom and dad on Parents Day. For your dad, you can go for the 'Gentlemen's Hamper' or 'Smart and Trendy', 'Men's Pride' and more. Similarly, for your mother, you will get to choose from hampers like, 'For U Only', which comes with a fancy bag and hair dryer, 'Cheerful Voucher' coming with a gift voucher of Shoppers Stop and personal care products.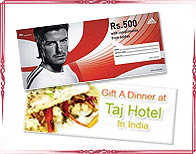 With the gift hampers, you can also send gift vouchers of numerous recognised brands, which we are offering especially for Parents Day. With our huge stock, you can send any gift vouchers to India on Parents Day. If you want your parents to have a delicious treat then you can send vouchers coming from Mainland China, Dominoes Pizza, Pizza Hut, Cafe Coffee Day and Baskin Robbins. With the Taj gift vouchers, you can give your parents the golden chance to savor mouthwatering world-class dishes with elegance and in style in one of the best restaurants of the world.

Apart from this, you can also send Parents day gifts to India from vouchers offered by Titan, Adidas, Reebok, Pantaloons and many more. With our awesome gift vouchers coupled with interesting gift hampers, you can be sure to make a perfect celebration of Parents Day for your loving mom and dad.