Image Credit : well family
International Family Day is an amazing occasion for celebrating the love that you share with your family. This day is celebrated with a lot of fervour and excitement and it is spent having a complete family time. However, if you are away from your family during this fun time then you can make up for this by sending gifts. There are a number of unique Family Day gifts to India here on this reliable online gift store that you can choose for your family members. There are many interesting combos showcased here in the gift hampers to India section that you can look at before deciding on a gift. A few of the best ones are being described here so that you can make an informed decision.
The Gentle Love combo is a combination of two gifts in the forms of lovely flowers and a cute soft toy. The flowers are actually orchids that are purple in colour and have been gathered into a bunch. The soft toy is a half foot teddy bear that is purple and white in colour with a sweet pink bow and golden buttons. The Regards for You combo has two gifts that are in the forms of pretty flowers and delicious chocolates. The flowers are red roses in a basket with a handle that have been decorated with green leaves. The chocolates are from the house of Ferrero Rocher and there are a number of these goodies here.
The Kesaria Boondi Ladoo Combo is a burst of yellow and there are two gifts in the forms of colourful flowers and yummy sweets. The flowers are in a bouquet having assorted flowers like roses, gerberas and carnations. The sweets are kesaria boondi laddoos that have been arranged in a decorated round thali. The Soft Treat combo will be enjoyed greatly by your family as it contains two of the most delectable gifts. There are refreshing soft drinks in the forms of 7 Up, Pepsi, Mountain Dew and Coca Cola cans. You will also find small thali containing crunchy dry fruits in the form of roasted cashew nuts that they will love.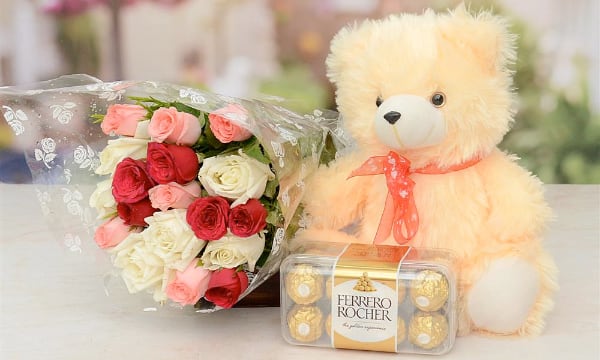 The True Bond combo also has two gifts in the forms fresh flowers and a cuddly soft toy that are always a heart winning combination. The flowers come in a round red and black China vase and are in the form of red and white roses. The soft toy is in the form of a teddy bear that is golden in colour wearing a sky blue vest and a red bow. The Choco Fest combo also has the classic combination of fragrant flowers and sumptuous chocolates. The flowers come in a bouquet in the form of red roses that have been decorated by gypsophila and assembled using golden wrapping cloth. The chocolates come from Ferrero Rocher and there are sixteen golden balls here that have been put together in a rectangular transparent box.
These along with a number of kids gifts to India will make this a very happy International Family Day. Gifts for other events and occasions are available here and you can easily send anniversary gifts to India. There are also many gifts that you can use to send birthday gifts to India for your loved ones.