Many a times when we inadvertently hurt our dear ones and the word "Sorry" does not solve the problem. In this case you can express your apology with special gifts. GiftstoIndia24x7.com, brings wide plethora of sorry gifts in "Sorry gift" category.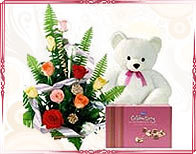 If you want to apologise to your girlfriend, friend, mom or dad, flowers will be perfect. Flowers represent a wide range of feelings from thankfulness, friendliness to apology. The beauty and aroma of the blooming flowers will definitely leave a positive effect on your dear ones. So, you can select flowers as sorry gifts. You can also opt for adorable soft toys to convey your apology to your dear ones. The site, GiftstoIndia24x7.com, has "I am sorry" soft toys which will definitely melt your dear ones heart and bring a big smile on your dear ones' faces. Moreover, if you are unable to attend your friend's birthday party or any other event, you can say sorry by sending some delicious cakes of different flavors. The awesome taste of the cakes will definitely impress them. If by some reasons you have annoyed your kid brother or sister, you can express "Sorry" by sending delicious packets of chocolates. However, while opting for the gift articles also send a card or letter with sorry message.

The CEO of the company, Mr. Amit Desai has opined, " GiftstoIndia24x7.com brings to you an extensive plethora of sorry gifts. These gifts will definitely make them feel how apologetic you are."

From the year 1999, GiftstoIndia24x7.com is offering the NRIs different types of gifts and hampers. Say sorry to your loved ones with sorry gifts.