Dussehra Celebration in Sri Lanka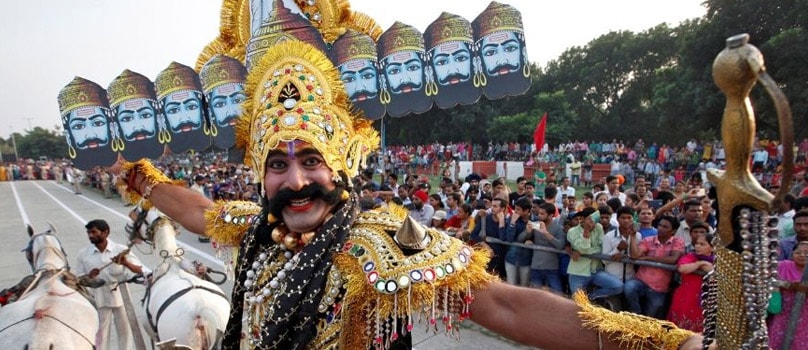 Image Credit : thekashmiriyat
The celebration of Dussehra is actually the celebration of the victory of good over the forces of evil. It is the celebration of the defeat of the demon king Ravana who has ten heads by the Lord Ram. The term Dussehra is derived from two words, namely, dasha and hara which means the vanquishing of the one with ten heads. This is also the time of giving and exchanging gifts and many exciting gifting options are sent as gifts to India. Although a Hindu festival, Dussehra has now found a very secular appeal and it is celebrated by everyone. The celebrations take place over the world but especially in the Indian subcontinent which includes countries like Sri Lanka.
Sri Lanka Celebrates Dussehra
The island country of Sri Lanka is located in the south of India and the two countries are quite near to each other. Thus, this close proximity between these two countries has led to an exchange of customs and traditions. Sri Lanka is also important in the Dussehra celebrations because its historical name was Lanka which is considered to be the place where Ravana lived. Hence, the celebrations in this country are carried on in its full extent with the ritualistic burning of effigies. The inflammable statues of Ravana, Meghnad and Kumbhkaran are burned by the arrows of a person dressed as Lord Ram. Worship of various deities like Goddess Durga and Saraswati are performed on this auspicious occasion.
If you are living in Sri Lanka then you must be missing your friends and relatives in India and can send gifts for them. You can get many different types of Dussehra gift ideas on this online gift store to be sent to India. These gifts will surely be loved by your dear ones in India on this divine event and they will surely cherish these.
Dussehra Gifts
You can send dry fruits to India for your loved ones from this online gifting portal where you can get many juicy treats. The Mouth Watering Combo Of Dry Fruits is comprised of four kinds of dry fruits, almonds, cashew nuts, pistachios and raisins. A vast collection of gift hampers are also available on this gifting site which consist of several attractive options. The Perfect Combination gift hamper is a collection of two gifts in the forms of flowers and sweets.
Sending chocolates to India for your friends and family on this occasion and you can find different types of these treats here. The Cookies with Dairy Milk Chocolates Hamper are branded chocolates which appeal to all. You can also send sweets to India on this online gift store that can be sent to India for your loved ones there. Indian sweets in the form of Kaju Gujiya are available here that are made out of cashew nuts.
Sending these exclusive gifts to your dear ones in India can take this year's Dussehra celebration to a whole new level. You can also look into the many other gifts that have been showcased here for many other festive events. Have a very cherished and memorable Dussehra with your friends and family through this online gifting portal.