Dussehra celebration in Nepal
Dussehra celebrates the victory of good over evil and as such it is a very popular festival in India. Though this festival is mainly celebrated by the followers of Hinduism, it has now gained universal acceptance. You can easily send gifts to India from USA as well as other countries on this occasion. There are various customs and traditions related to this auspicious event which change in different parts of India. Though Dussehra is mainly a festival that is celebrated in India, it is also observed in other parts of the world. The Indian subcontinent is very much involved in this festival and the neighbouring country of Nepal has many unique rituals for this day.

Nepal Celebrates Dashain

Dussehra celebration in Nepal is carried out on a great scale and it is known here as Dashain. This festival is observed in this country for a period of fifteen days which are filled with fun and festivities. Though this is a continuous event, there are important days among this fortnight which are considered to be more relevant. The rituals and customs which encompass this festival on different days are ghatasthapana dashain, fulpati, maha ashtami, maha navami and bijaya dashami. Dashain is a celebration focussing on the defeat of the demon Mahishasura by Goddess Parvati or Durga. A special tika is applied on the foreheads of everyone by their elders and the plant jamara is grown.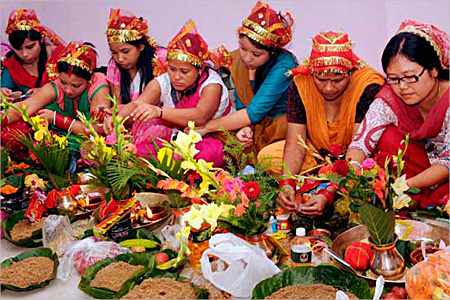 If you have relatives and friends in India then you can easily send gifts for them from Nepal and also other parts of the world. There are many Dussehra gift ideas present on this online gift store that you can send to India. These gifting options can surely make this coming Dussehra a memorable occasion for all your loved ones.

Dussehra Gifts

You can send chocolates for your dear ones in the forms of chocolate hampers, handmade chocolates and also branded ones. The Cadbury & Temptation Hamper contains many kinds of branded chocolates in the form of a chocolate hamper. There are also different types of dry fruits here that are preferred by many due to their high nutrient content. The Flavoursome Combo Of Spicy Kaju has three different flavours of cashew nuts as roasted, masala and chilli masala.
Gift hampers contain gifts for everyone and hence they are preferred by adults and children alike. The Kesaria Boondi Ladoo Combo consists of a platter of boondi laddoos and a bouquet of assorted flowers. A variety of sweets can also be sent for your family and friends in India that they can enjoy thoroughly. The Piquant Kaju Litchi are Indian sweets in the form of litchis made out of cashew nuts and pink in colour.
Celebrate this Dashain with your loved ones in India with a lot of fun and frolic along with numerous activities. The rituals and customs of Dashain or Dussehra are bound to amaze you and you can understand this festival even better. You can amaze your dear ones with many amazing gift ideas on the occasion of Dussehra that have been showcased on this online gifting portal.