Do You Want to Send Rakhi to India ?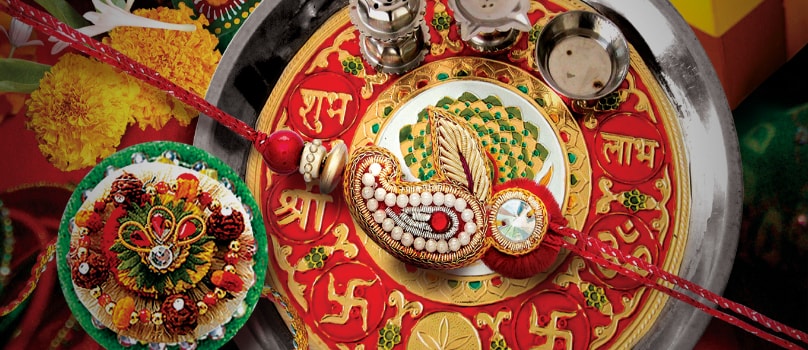 Rakhi has been one of the most phenomenal festivals of India in infusing love between brothers and sisters. This auspicious occasion is celebrated on the day of 'Shravan Poornima'. A sister ties Rakhi around her brother's wrist, signifying the unconditional love and affection that her brother rightfully deserves. Her brother on the other hand, vows to protect her all through her life from all the troubles the life has to offer. Giftstoindia24x7.com salutes the spirit of togetherness by launching a range of Rakhi gifts to India which will surely prep-up the celebrations and will be an event to remember for a really long time to come.
The tradition of Rakhi has been celebrated throughout India since ancient items. Family ties and bonding are exemplified in this beautiful festival of love. With time, celebrating Rakhi has undergone a change. But it has retained the same old flavor. Whenever Raksha Bandhan is round the corner, stalls and stores across the country are brightly lit and are stocked with brightly coloured Rakhis and other Rakhi Gifts. Girls, young and old, wearing colorful clothes and are seen buying various items for that perfect Rakhi Thalis for their brothers the next day. Brothers are also seen buying various Rakhi Gifts that will surely surprise their beloved sisters the next day when they tie Rakhis. The happiness that engulf the entire day, the beautiful feeling that carries on throughout the day is really a treasured moment.
With the turn of this century, many new challenges have cropped up. There are many people who have to leave for the foreign shores as they have their own career considerations. As a result, they have to stay far apart from their loved ones for months on end. Raksha Bandhan has changed and now brothers and sisters from the world over are sending rakhi and rakhi gifts to India to their loved ones to pay homage to their loved ones for being there. There are many gifts which one can send to their loved ones in India. This site is proud to announce a range of rakhis such as Exclusive Rakhis, $3 Rakhis, Pearl Rakhis, Silver Rakhi, Zardosi Rakhi and many others. Besides Rakhis, you can also send Rakhi Thalis such as Chocolate Thalis, Mithai Thalis etc.
When you want to send rakhi to India, then you should keep in mind that the person on the other end who receives the item needs to be told that they are special. You can express your emotions in a better way by sending various other gifts such as Rakhi Greeting Card, flowers, perfumes. If you are unable to select that perfect gift besides Rakhi to India, then send your loved ones exclusive rakhi Gift Hampers that will surely win your loved one's heart and brighten up her mood on the auspicious occasion, thus making Rakhi an event to earmark for years. So, besides sending a rakhi to India, you can have so much more. Our 24x7 customer support will guarantee your peace of mind and so it will be much more easier task. When you send rakhi to India through us, you can be rest assured that your loved ones will receive much more than just the gifts, they will receive your love, care and emotion from so far away.