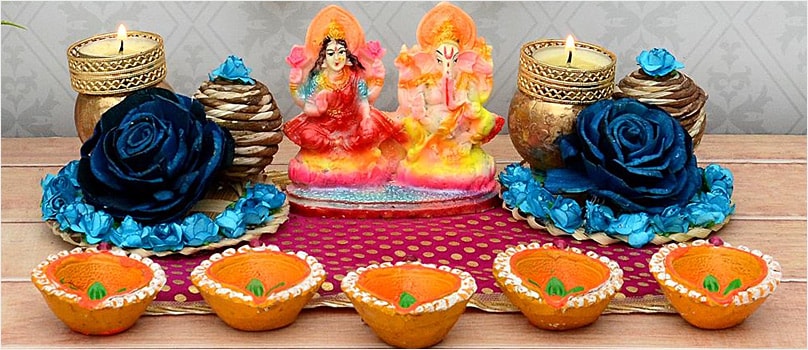 Diwali is the festival of spreading joy and hope. It is celebrated by Indians across the globe with great enthusiasm. This gala carnival is believed to be the celebration of eradicating darkness with the light of virtue. According to mythological stories, Lord Rama returned to his kingdom after killing the demon king Ravana on this auspicious day ending his 14 years long exile. His subjects illuminated his entire kingdom with diyas to welcome him a grand manner. This Diwali, GiftstoIndia24x7.com has brought a dazzling collection of diyas and decorative rangolis to brighten up the interior of your loved ones.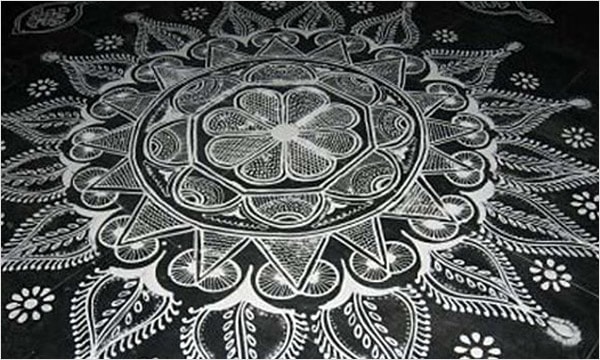 The diyas in our collection are available in delightful designs and shapes. These Diwali essential items in our assemblage are made of materials like clay and german silver. All of these diyas come with exquisite embellishments of colourful painting, beads, zari work, stones cowrie shells, small mirrors, artificial pearls, kundan work and lots more.

Some of the beautiful diyas come in delightful shapes. From Set of 5 Blue & Golden Diya to traditional clay lamps , our collection is your one stop destination for illuminating the house of your dear ones with the flame of holy light.
Electronic Diyas are very popular nowadays. These battery lit lamps will illuminate the abode of your family and friends for long without any hassle. These diyas come in beautiful shapes with subtle works of Kundan and other vibrant adornments. The sparkling German Silver Diyas are bejewelled with intricate carvings and subtle motifs.
On this auspicious day of Diwali, every house is beautified with colourful rangolis. The rangolis in our collection come in vibrant hues. One has to just assemble these wooden parts to get an exotic rangoli. These unique floor decorating items are available in the shape of various traditional motifs with the bejewelent of artificial pearls, sparkles, paintings, zari, Kundan work.
Grab a Disigner Foldable Rangoli from our collection.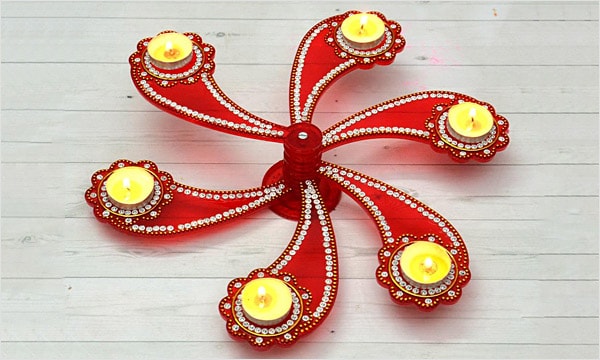 Pink and blue colours complement each other very well. Red & Green Decorated Kalash Rangoli of this charming combination has bejewelled our festive collection of rangolis.

A classy rangoli set with peacock shaped cut outs has enriched our Diwali assemblage. It comes with a green centerpiece accompanied by five peacock shaped cut outs of green and blue colour. This wooden floor decorative item will surely brighten up the home decor of your dear ones on the pious occasion of Diwali.
Stop by our section of Diwali rangolis to procure Kalash Rangoli. The appealing red, green colour combination has given this floor decor item a festive look.
This Diwali, brighten up the the home decor of your relatives and friends with colourful diyas and rangolis. Let the blessings of Maa Lakshmi shower on your loved ones by presenting them these auspicious Diwali Essentials items.