How to Get Diwali Gifts Delivered Same Day?
Diwali is the festival of light. With every lamp lit, people of india carries forward their fight against darkness during this festival. It is also a time for families to come together to celebrate this joy. But when you are away from your family and can't please them with your presence, you want to pour your heart out in the gift you choose for them. Therefore, it is always a tough decision and you draw it out to the very last minute to choose the perfect online Diwali gifts to India.

But then, it is generally too late to send online Diwali gifts to India. Now don't despair because GiftstoIndia24x7.com has brought to you the exclusive service of express delivery of Diwali gifts India. Through express delivery your gifts will reach the desired recipient within 24 hours of placing the order. So, even when you are very late in choosing your gifts for your loved ones, you do not need to worry. Just select from the Diwali same day delivery of gifts to India section and make Diwali celebration this year grand for your relatives and friends.

The express delivery section in GiftstoIndia24x7.Com is offer an abundance of a choice: dry fruits, sweets, flowers, cakes and chocolates in all kinds of alluring mixed assortment can be obtained in this section. Like any other Indian festival, Diwali also is a perfect opportunity to send mouthwatering sweets and delectable dry fruits. You can send them individually in decorated trays or as a unique combo in a beautifully designed hamper. And if you feel you are still not satisfied with the cater you can obviously improvise. Add to your choicest combo an alluring a selection of fragrant flowers or a box of chocolates to make it more endearing.

Fresh flowers can in itself be an adorable gift for the loved ones. Imagine when you are miles away and the aromatic effect of the fresh flowers will make your dear ones feel your presence in their joyous Diwali celebration. You can send flowers in a bouquet decorated with lace or ribbons or with glorious wrapping paper. Otherwise you can opt for a vase with throng of carnations or go for an exotic arrangement of flower in baskets. You can choose from gerberas, orchids, roses, carnation and many more.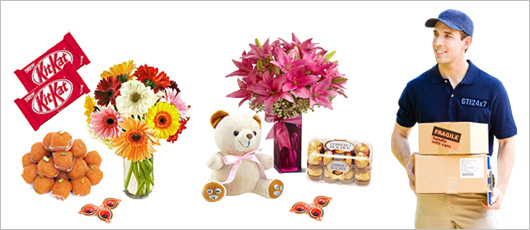 Apart from all these there are items that you can mix and match according to your choice. How about sending a bunch of flowers with a choice of soft toys? May be you can choose to send a chocolate cake along with the dry fruit hamper that you have chosen. Even go healthy with a basket of sweet-smelling fresh seasonal fruits that will go well with a tray of remarkable dessert treats. Go crazy, don't worry about budget, show a grand gesture this Diwali, even when you are doing it the last minute.

Your gift will carry your warmth and heartfelt wishes that will make Diwali celebrations more memorable for the people who are important to you. Therefore utilise this exclusive festive offer to usher a sweet delight to the ones you matter.