Diwali or Deepavali means 'a row of light'. It is the festival of worshiping the victory of good over the evil or darkness prevailing within oneself. It is the celebration of illuminating one's own soul with the light of hope and positive energy. Diwali marks the empowerment of your heart to connect to the divine world. In ancient India, Diwali was supposed to be an important harvesting festival. Diwali has a historical significance also as it marks the end of Lord Rama's exile and his return to his homeland. Diwali unites everyone near and far and instills feeling of zest, hope, and the spirit of goodness.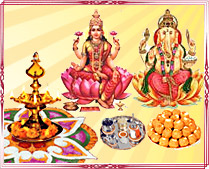 Diwali, the festival of lights, lightens up the darkness of the Amavasya moon, and reinforces our close bonds with our loved ones and greet family and friends. Diwali is one of the biggest festival in which people join hands in the celebration irrespective of caste creed and colour. It is celebrated on Amavasya, the 15th day of the dark fortnight of the Hindu month of Ashwin, i.e. October or November every year. People of all age groups participate in this festival. Diwali is celebrated by decorating the houses, lighting earthen diyas or lamps, bursting firecrackers and sending gifts to the loved ones. Celebrating Diwali remains incomplete without the exchange of gifts. Hence, if you know when is Diwali in 2011 then you can send gifts to India on Diwali.

Though Diwali is a national festival, it has assumed global significance today. It is even celebrated abroad among non-residential Indians with a lot of festivity and enthusiasm. If you stay abroad, or are out of the country due to some reason, then sending gift to India won't be a problem any more. There are many e-gifting store available. So if you are missing your family and dear ones then send Diwali gifts to India through these online stores. The gift will covey your heartfelt warm wishes to them. In these online stores, you can choose attractive gifts from this vast range and send Diwali gifts to India through these websites.

Giftstoindia24x7.com is one such online gift store which specializes in sending Diwali gifts to India with the best possible packaging and ensuring complete customer satisfaction. You feel an urge to send the most chosen gift to your friends and family in India on Diwali and the site is there to offer you with the largest variety of Diyas, Thalis, Chocolate and sweet hampers. It also has a wide range of gifts including special religious CDs, door hanging, dry fruits and home docor to add a special appeal to your loved one's abode during Diwali. So send gifts to India from US and add charm to the festival.

The Diwali gifts offered by Giftstoindia24x7.com are beautiful, unique and are the best possible means to show your love to those persons who are very much close to your heart. So there is lesser chance to miss your near and dear ones who are living far away from you in thisDiwali 2011. Giftstoindia24x7.com brings to you Diwali gifts which will speak your heart out to your loved ones in this special occasion. So come lets dive in the spirit of Diwali and let gifts convey your emotion across miles. Hence, as if you known when is Diwali then you can make the festival more joyful with gifts.