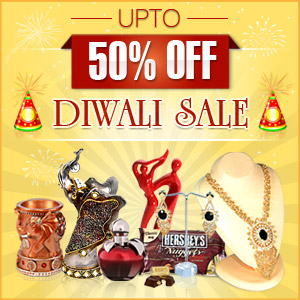 This Diwali, GiftstoIndia24x7.com brings an exciting offer of upto 50% discount on a delightful handpicked collection of Diwali Gifts. The festival of Diwali holds a special significance in Hinduism, Jainism and Sikhism. It is the celebration of eradicating the darkness of evil and ignorance with the light of virtue and knowledge. Goddess Lakshmi is worshipped on this auspicious day. The houses are illuminated with ornate diyas and rangolis to welcome the Deity. Family get together and exchanging gifts among loved ones are popular customs of this jubilant festival. People flock shops and markets to buy presentations for their relatives and friends. Avoid the surging crowd and shop from our online gifting portal of GiftstoIndia24x7.com.

Our assemblage of on sale products consists of a gamut of items; ranging from perfumes to jewelleries, mobiles, kitchenware items, chocolates, flower bouquets, mens' accessories, showpieces and lots more. This enthralling offer is valid till the stock lasts. So hurry up and enjoy this mind blowing Diwali discount of upto 50% on selected products.

Our perfume collection is an ensemble of fragrances from celebrated International brands like Calvin Klein, Versace, Nina Ricci, Bvlgari, Mont Blanc, Gucci, Burberry and lots more. You can get 5% to 50% discount on the purchase value of these pleasant perfumes.

You can find exquisite Pearl Necklace Sets and trendy Fashion Jewelleries in our rich collection. Some of these classy fineries come with gold plated base metal and dazzling embellishments of American Diamonds. The discount amount applicable on these accessories ranges from 25% to 40%.

Gift your dear ones a stunning mobile phone on this Diwali. We have brought various models of Sony Xperia, Samsung Galaxy, LG and Nokia Phones. These gadgets are available on 6% to 33% discounted rate.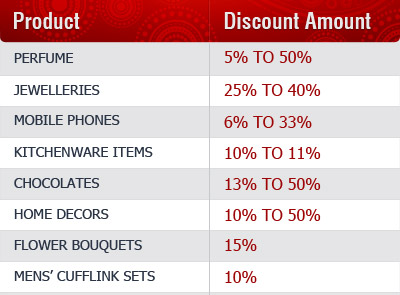 The Kitchenware items in our collection comprises of aristocratic dinner sets of finest materials, sets of glasses, juice set, Cup & Saucer sets, lunch boxes, cutlery sets and lots more. The lunch boxes in our collection are from Signoraware & Milton. The cup & saucer sets are procured from La Opala and renowned brands. Apart from all these items you can also find here flasks, sets of fiber plates and coasters. Enjoy 10% to 11% discount on these utilitarian items.
Enjoy 13% to 50% discount on Hershey's Chocolate Nuggets, Belgian Chocolate Bonbons and Cadbury Celebration Packs.

You can get 10% to 50% discounts on aristocratic home decor items like figurines, flower vases, pen stands and lots more.

We are also offering 15% discount on flower bouquets and 10% discount on Mens' Cufflink Sets.

On being asked about this exciting discount offer, Amit Desai, the CEO of the organization said, "Diwali is the festival of spreading hope and joy. Our motto is spreading smiles across miles. We have introduced this Diwali Discount Offer to broaden the smiling curve on the face of our customers."

Enjoy this Diwali with your family and friends and celebrate the auspicious day by worshipping Goddess Lakshmi. GiftstoIndia24x7.com team wishes you all a very happy and safe Deepavali.