Delicious Desserts For Rakhi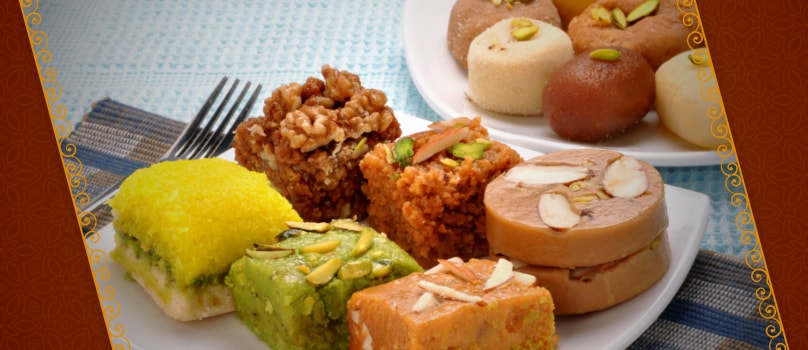 Any Indian festival, including Raksha Bandhan, which is celebrated without eating delicious sweets is unheard of. Sweets with their mouth-watering taste, makes the occasion more grand. Raksha Bandhan, commonly known as Rakhi is a festival which is celebrated to honour the eternal bond between brothers and sisters. Apart from the ritual of tying a Rakhi thread on the brother's wrist by sisters, exchanged gifts is also an indispensable part of this festival. Once all these customs are completed, siblings gift sweets to each other to celebrate this joyous event.
Thus, on Rakhi, surprise your brother by making him some delicious sweets. Here are some simple dessert recipes which you can prepare yourself at home.
Badam Phirini (Almond Pudding)
Ingredients:
2 tbsp rice
2 cups milk
3 tbsp sugar
1/4th cup blanched almonds (sliced)
1/2 tsp kewra essence
1 tsp green cardamom (crushed)
silver or gold foil paper (varak)
How to make badam phirni:
1. Soak rice in water for few hours, then drain water and grind rice into a smooth paste.
2. In a non-stick saucepan bring milk. Over a moderately low heat add rice, sugar and cardamom and stir constantly till milk turns thick.
3. Remove from heat and add almonds
4. Put in serving bowl and chill.
5. Garnish the badam phirni with silver or gold foil paper (varak) and serve.
Doodh Pak
Ingredients:
1/2 cup Almonds
1 litre Milk 250 grams Sugar
1 teaspoon Saffron
1 teaspoon Cardamom powder
1 1/2 tablespoon Raisins
1 tablespoon Pistachios
Preparation:
1. Soak the almonds in warm water for 1 hour. Peel and grind to a fine paste. Dissolve the saffron in 1 tablespoon of warm milk and keep aside.
2. Boil the milk in a heavy bottomed pan, stirring constantly. Add the almond paste and simmer for 30-35 minutes, stirring regularly.
3. Add the saffron, sugar, pista and raisins. Cook on a very low flame till thick. Sprinkle cardamom powder.
4. Serve doodh pak hot or chilled.
These lip-smaking delicacies will surely make your brother savour its taste for several days.
But, if you are miles away from home, it will not be possible for you to prepare these mouth-watering dishes for your brother. Instead of this, you can make his day special by sending an attractive Rakhi to India along with gifts with the help of GiftstoIndia24x7.com. From men's wear, accessories, watches to men's personal care, watches, perfumes, etc, you will find these all here. But, before you send Rakhi to India with gifts, keep your brother's preference in mind, if you want him to appreciate your gift. You do not want to gift him something which will be ultimately end up in the basement.
If your brother is a teenager, then along with an attractive Rakhi to India, you can send him a latest mobile phone, watch or some stylish men's jewellery. We offer you mobile phones from popular brands such as Nokia and Samsung so you need not worry about their quality and durability. Hence, send Rakhi to India along with a latest hand-set from our site and make your brother's day truly memorable. For your working professional brother, you can opt for a pair of cuff-links, neck-ties or some formal wear as Rakhi gifts.
But, before you place your order with us, it is imperative to know when is Rakhi. Thus, with the help of GiftstoIndia24x7.com, make this festival of Rakhi an unforgettable experience for him.