Delight your loved ones with Cakes and Flowers through GiftstoIndia24x7.com
Gifting flowers and cakes on any special occasion or festival is a very common trend. If you have no time to select gifts for your dear ones, you can just send a bunch of blooming flowers with delicious flavor cake. You can get these attractive items either in market or from popular online portals. Moreover, it is best to search these gift items in online portal as it less time consuming. Amongst various online store, GiftstoIndia24x7.com is a reliable online portal. This online store comes with different types of flowers and cakes coupled with other gift items that you can send as gifts to India.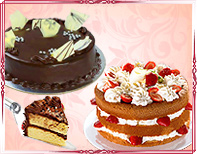 In GiftstoIndia24x7.com, you can avail wide plethora of exotic flowers and palatable cakes. The flowers such as Roses, Carnations, Gerberas, Lilies etc come in various arrangements such as in bunch, bouquet, vase etc. Flowers are considered the symbols of profound love and adoration. Flowers definitely leave a positive effect on the recipient. You can flowers to your mom on Mother's day, by selecting blooming flowers according to your mother's choice. If your mother is fond of Gerberas then you can send her some colorful Gerberas as gift to India or if she likes all types of flowers then you can send her a bouquet with all flowers. Flowers will also be perfect birthday as well as anniversary gifts. So, send flowers to India.

Each flower comes with unique meaning and significance. For instance, Carnation as a whole symbolises pride and beauty. However according to color the significance of the flower changes. Varied colors of Carnations such as white, yellow, pink etc are available. White Carnation symbolizes pure love and good luck. So if you want to wish your friend good luck on his birthday or wedding then you can send a bunch of white Carnation. So, while selecting flowers for the recipient it is important to take into account the likes and dislikes of the recipient.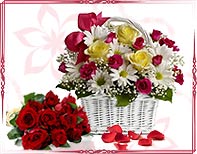 Along with the aromatic flowers, you can charm your dear ones with palatable cakes. In GiftstoIndia24x7.com, you can avail various flavors of cakes such as black forest, strawberry, pineapple, chocolate etc. Moreover, you can opt for cakes such as Taj Cake, Five Star Cake, Normal Cake etc. You can send cakes to India on occasions such as birthday, anniversary, wedding etc. If you want to wish "Happy birthday" to your friend you can send cake with balloons. Cakes also hold special significance in every occasion. For instance, on birthday, cutting cake is key custom of the occasion.While on wedding, the newly wedded couple cut cake which signifies their commitment towards each another. In this e-gifting store, cakes are beautifully decorated with icing and toppings. So, send cakes to India and make the occasion memorable.

You can separately select these items from "Cakes" and "Flower" category. Apart from these two sections, you can select a complete combo from "Flowers & Cakes" category. Each hamper includes fascinating flowers and delicious cakes that will definitely bring a big smile on your dear one's face. GiftstoIndia24x7.com is serving the NRIs to send gifts to India. From this online store, you can send gifts to India from US. So, why are you stilling waiting? Place the order in our site. Our online delivery service will definitely help you in sending flowers and cakes to your loved ones in India.