Delicious Food Items introduced
Feasting is an essential part of any occasion or festival. People arrange grand feasting so that everyone inf the family members can enjoy the occasion at fullest spirit. So if you want to delight your dear ones on any special occasion or festival you can opt for tasty food items as gifts. At the time of any occasion, special food items are available in the shops of the market. Instead of visiting the shops, you can take the help from the online stores. GiftstoIndia24x7.com is a popular online, where you will avail varied gift items for all occasions and festivals. Food Items is a special category introduced by GiftstoIndia24x7.com. This section comes with mouth-watering food items that you can send as gifts to India. The food items are clearly segregated into different sections that will surely help you in selecting delicious food items for your loved ones.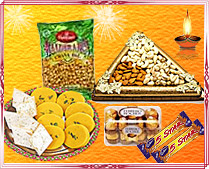 Apart from birthday, cakes are sent as gifts on occasions such as Valentine's Day, Mother's Day, Parent's Day etc. The cakes section comes with various flavors such as chocolate, pineapple, strawberry, vanilla etc. Send cake to India from USA from renowned bakeries such as Five Star, Taj etc are available. If you are sending cakes to your kid then you can opt for cakes from "Kids Cakes" section. Here you will avail cakes in various cartoon shapes such as toy train, Mickey Mouse, Harry Potter etc. You will also avail special cakes such as two or three tiers cake, double heart shaped cakes etc that you can send to your dear one's anniversary or marriage. The awesome taste of the cakes will definitely enthrall your loved ones.

Sending sweets to India is an integral part of any Indian festival. Every Indian sweet differs in taste and flavor. People enjoy having these sweets at the time of occasion and festival. The custom of exchanging sweets on festival symbolizes good luck, prosperity and happiness. So you can opt for mouth-watering sweets from the "Sweet" section. Here, you will avail tasty Indian sweets such as motichoor laddoo, peda, kaju barfi, kaju roll, kaju suraj etc. Some of the sweets such as diamond kaju, karachi halwa, kaju hearts are also garnished with dryfruits which make them taste awesome. You can also select sweets from "Tinned Sweets". The tinned sweets such as rosogolla, pantua comes with syrup which will definitely be liked by your dear ones. So send sweets as gift to India to your dear ones on any special occasion or festival.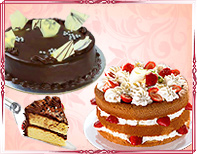 Chocolates are liked by people of all ages. So send chocolate to your loved ones on any special event. Chocolate hampers come with assorted chocolates such as KitKat, Perk, Dairy Milk, etc. Your loved ones will definitely enjoy having these tasty chocolates. Along with chocolates, you can also send crunchy dryfruits. The "Dry Fruits to India" section comes with palatable dryfruits such as cashew nuts, almonds, raisins etc arranged in hand made trays or silver thalis. Receiving these food items as gifts will definitely add smile on your dear ones face.
If your dear ones are fond crunchy namkeens then you can send them namkeens from "namkeen" section. Spicy namkeens such as small samosa, bhujia, potato chips, ghujia etc come in colorful trays. The namkeens available in this site are from renowned confectioneries and are made up of good quality ingredients. Your dear ones will definitely enjoy having these crispy & crunchy namkeens as snacks with tea or coffee. You can also send namkeens and sweets to your close ones from "Sweet N Salty" section.

Thus send these delicious food items as gifts to India from US to your loved ones on any special occasion and festival and make them feel special and delighted.