Convey warm wishes of Eid-Ul-fitar to your loved ones in India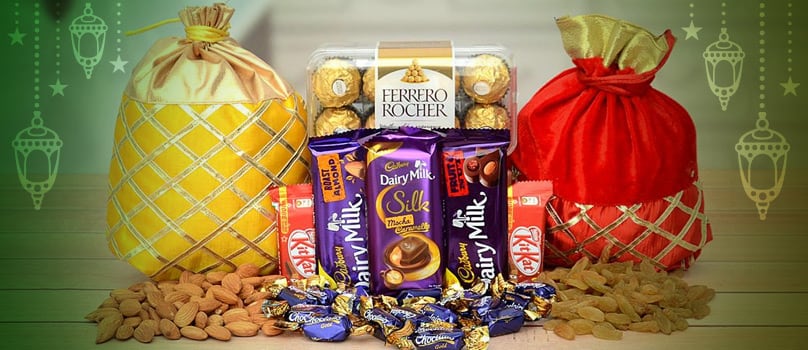 "Exchange presents with one another, for they remove ill feelings from the heart." ~The Prophet (Tirmidhi)
Eid Ul Fitr or Muslim Eid in Arabic, the most important festivals of Muslims, means Festivity. Eid-Ul-Fitr is all about celebrating the breaking of the fasting month. Here 'Fitr' means to break and it stands for the breaking of the fasting period and of all evil habits in human being. Muslims from all over the world celebrate 'Eid ul Fitr on the first day of Shawwal which is the tenth month of the Islamic calendar after the month of Ramadan. Beginning of Eid-ul-fitr comes after the end of Ramadan, the pious ninth month of Islamic calendar, significant to the Muslims for the holy ritual of fasting. Ramadan lasts for one month and ends with the beginning of the Eid-ul-fitr. When sight of the crescent moon or hilal is clearly visible at the end of the Ramadan month, it is time to break the month-long fast and celebrate Eid-Ul-Fitr. Breaking this fast also symbolizes breaking of all the evil habits of human nature.
Eid ul-Fitr is a three day celebration. It is a celebration of brotherhood where everybody, the young and old celebrates with open hearts. Eid is the celebration day for all the Muslims. On Eid all the near and dear ones come together to pray and have meals together. It is also the celebration of spreading happiness and love to all and create an ambience of peace and togetherness. According to the tradition, Eid is the festival of exchanging gifts with the near and dear ones to convey well wishes and strengthen the bond of love one shares with the loved ones. Eid is a great occasion of exchanging gifts with friends and family. Gifts can also be sent to close acquaintances.
Sending gifts to your loved ones in India on Eid ul fitr marks the prime essence of this auspicious occasion. Giftstoindia24x7.com brings a wide range of gifts you can choose from to send gifts to India to your special ones.
On the auspicious occasion of Eid, a gift to India for your dear ones is the ideal way to express mutual love and affection. So send gifts to India on Eid and make the festival even more exclusive. Bring harmony in your close relationships by sending some delicious sweets like Kaju Pista Barfi, Kesar Barfi, Dryfruit Anjeer, Kesaria Peda and many more. Send these sweets as gifts on Eid to India to sweeten up your relation with your loved ones. These sweets will surely fetch the hearty smile on the faces of your near and dear ones.
On the pious day of Eid, girls dress themselves up with their best outfits to look gorgeous. So exclusive and designer salwar suits can be best gifted to your beloved women on this special occasion of Eid ul fitr. We also offer exclusive gift vouchers of famous brands like Wills Lifestyle, Shoppers Stop, Pantaloons and Big Bazaar. Send these precious gifts to India and indulge your dear ones with lots of love.
Freshen up the joyous mood of Eid by gifting perfumes to your near and dear ones. Fill up the festive air with the sensuous fragrance range offered by giftstoindia24x7.com and see the sparks on the faces of your special ones. We offer you to choose perfumes from a vast range of famous international brands like Davidoff, Hugo Boss, Hugo, Cartier, J Lo, Burberry, Ferrari and many other.
Giftstoindia24x7.com offers an wide assortment of gifts to kids which are perfect to present to the little ones in your family. We value your each and every relations. So we have a huge collections of gifts suitable for various relationships and various age groups which are also perfect as gifts to India on Eid. You want to surprise the special man in your life and we have elegant collection in the gifts for him section. Girls would love to wear jewelleries on the special occasion of Eid and so if you want to please the women folk of your family just send them designer jeweleries and see the glow on their faces. Apart from these you can also send watches, fruits and flowers, gift hampers, home decors etc.
Last but not the least, we, giftstoindia24x7.com, also offer you to send Eid special gifts to India which includes cakes, chocolates, flowers, gift hamper, gift voucher and sweets to convey Eid Mubarrak to your near and dear ones.
Send gifts to India on Eid and wish your near and dear ones a happy Eid ul fitr. Convey your special care, love, affection and brotherhood in this special occasion of Eid ul fitr and wish your loved ones all the happiness and prosperity in life. Let these Eid special gifts to India speak for yourself and make your special ones feel more special than ever. It will ignite the sense of togetherness among all your close ones in this holy day of Eid. And to make this special occasion even more remarkable giftstoindia24x7.com is always there for you to help you to deliver your emotions and regards to those people you value most.